Latest TIFA talks 'productive': US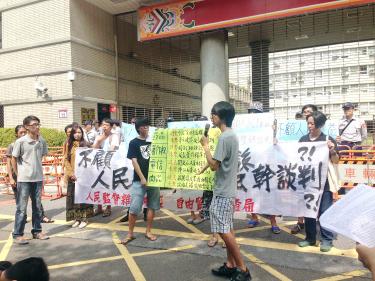 The China Post | 2 October 2015
Latest TIFA talks 'productive': US
John Liu
The latest round of trade talks between Taiwan and the U.S. under the bilateral Trade and Investment Framework Agreement (TIFA) made much ground in a number of areas on its first day, yesterday, but both sides have yet to reach consensus on issues such as U.S. pork imports, said a U.S. trade official.
The talks reached agreement on several issues and enhanced economic ties between the two nations, said Robert Holleyman, a deputy U.S. trade representative and the head of the U.S. delegation, in a joint press conference issued with his R.O.C. counterpart, Deputy Economics Minister Cho Shih-chao (卓士昭).
The TIFA meeting is a very important platform for dialogue, and good progress was made in yesterday's meeting, Cho said. "Through this platform, both sides were able to discuss certain important issues and resolve items that concern both sides."
The subjects discussed yesterday encompass bilateral investment, intellectual property, pharmaceuticals, trade barriers, agricultural products and multilateral and regional cooperation, among others.
Much progress was made to facilitate investment, and the U.S. is pleased to see the liberalization measures that Taipei has taken to further open the market, Holleyman said.
Despite the fact that there are issues the two sides are trying to resolve, there are also many agreements, the U.S. trade representative said.
Taiwan has made progress in improving trade secret protection and has passed laws to ensure the innovation of its economy, he said.
The meeting talked about efforts to foster innovation in the pharmaceutical section and how to simplify regulations to hasten the launch of medical equipment into the marketplace and ensure patients' interests.
There are also talks "about how we can reduce technical barriers in trade (and) overcome regulatory obstacles in mechanical registration process," Holleyman said.
In addition, there were discussions over regional and multilateral initiatives to highlight the two countries' close cooperation in areas like APEC and the WTO, the U.S. envoy said.
Food Safety Measures Should Be 'based on science': U.S.
On imports of U.S. pork containing ractopamine, Holleyman stressed the U.S. consistently urged its trade partners, including Taiwan, to ensure that all food safety measures "are based on science" and "consistent with international standards."
The U.S. is upholding this principle with all of its trading partners via bilateral, multilateral and regional trade dialogues that it participates in. Taiwan is no exception, and this is critical in fostering robust economic relations, Holleyman said.
Chu said, however, that his delegation sticks to Taiwan's official policy of "separate handling of beef and pork imports." The Legislative Yuan passed a bill relaxing the import of ractopamine-containing U.S. beef products in July 2012. Imports of pork products with the same additives, however, are still banned. While beef imports were widely seen as a food safety issue by the Taiwanese public, the opening of the domestic pork market could have bigger economic impact on the nation's considerable number of pig farmers.
Taiwan's Bid to Join the TPP
There was a general discussion yesterday in which Taiwan updated the U.S. on domestic reforms that Taiwan may need to take to be prepared to seek to join the Trans-Pacific Partnership (TPP) or other trade agreements, according to Hollyman.
"And we welcome that update and efforts. Right now the United States and a lot of our trade partners are meeting in Atlanta in an effort to try to see if we can reach a conclusion to the TPP, and we are focused on that effort, and any discussion about expansion of that is premature until we have an actual agreement."
When the TPP is concluded, all the details and the texts pertaining to the TPP will be made public, and that will be useful for Taiwan and other countries that have a common interest in becoming part of the TPP to assess their readiness in meeting the standards, Holleyman said.
---