Latin America-European Union trade union declaration discussed with Spanish government
International Trade Union Confederation | Tuesday, 18 May 2010
Latin America-European Union trade union declaration discussed with Spanish government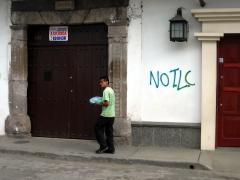 Brussels, 17 May 2010 (ITUC OnLine): Trade unions from Latin America, the Caribbean and the European Union (LAC-EU) are today presenting their joint statement to Spanish Foreign Minister Miguel Angel Moratinos, representing the Spanish government hosting the LAC-EU Heads of State Summit that will take place on 18 May 2010. The trade union statement entitled "Towards employment creation, social stability and workers' rights in relations between Europe and Latin America" was adopted on 5 May at the end of the 5th Latin American and Caribbean – European Union Trade Union Summit, attended by 100 trade union delegates from affiliated organisations of the European Trade Union Confederation (ETUC) and the Trade Union Confederation of Workers of the Americas (ITUC-TUCA). Over the last weekend, it was already discussed in Madrid with several Latin American governments attending the summit and with the European Commission.
The trade union statement calls for a halt to the ratification of the EU-Central America and EU-Colombia/Peru Free Trade Agreements (FTA) given the omission of key trade union demands and the lack of involvement of civil society and trade unions in the negotiations process. Furthermore, despite the ongoing violence in Colombia, the EU-Colombia/Peru FTA fails to provide adequate guarantees of human rights and stands to undermine the existing integration process of the countries of the Andean Community.
Other parts of the trade union statement cover the need for stimulus to the world economy and re-regulating financial markets, as well as promoting the Decent Work Agenda and dealing with climate change. The unions demand that the leaders adopt coherent policies on migration in both the countries of origin and of destination, with a view to guaranteeing labour rights, social protection and security to migrant workers. The appeal also draws attention to the situation in Honduras and to the need for solidarity with the peoples of Haiti and Chile, countries which were recently struck by catastrophic earthquakes.
---