Latvia first to ratify Canada-EU trade deal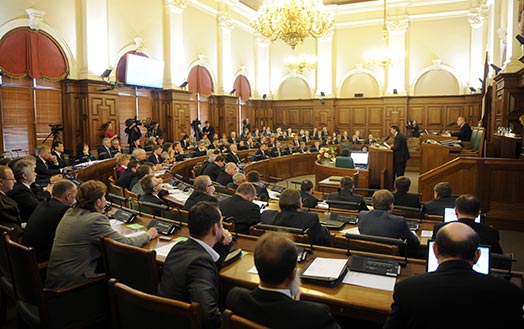 LSM | 23 February 2017

Latvia first to ratify Canada-EU trade deal
The Latvian parliament, the Saeima, became the first in the European Union to fully ratify a groundbreaking free trade deal between the 28-member bloc and Canada.
The Comprehensive Economic and Trade Agreement (CETA) between Canada, on the one hand, and the European Union and its Member States, on the other hand, will remove 99% of existing tariffs between the two trading areas.
It has numerous other effects too, such as establishing mutually-recognized qualifications for professionals and coordination of documentation in various areas.
It has been described by Foreign Minister Edgars Rinkēvičs as essential for strengthening Latvian and Canadian bilateral relations.
Confirmation that full ratification had been rubber-stamped led to an immediate flurry of activity on social media, not least because Canada's Minister of International Trade, François-Philippe Champagne, is currently in Riga and attended the parliamentary session in person to see history being made.
The Foreign Ministry led the way on social media.
The decision was also praised by MEP Artis Pabriks, who took the lead in steering CETA through the European Parliament's approval process, winning a decisive vote in Strasbourg on February 15 .
Indeed such was the importance attached to the Saeima vote, a video was even prepared in advance explaining why it was significant — an extraordinary turn of speed for a legislative process not usually noted for its express delivery.
In the (Latvian language) video, the respected head of the Saeima Foreign Affairs Commission, Ojars Eriks Kalnins, explains the strategic as well as economic benefits of ratification.
"With this decision we open up the whole of the Canadian market," says Kalnins, describing CETA as "one of the most progressive and modern agreements that has been drawn up."
Speaking Thursday afternoon, Champagne was full of praise for the speed with which Latvia had approved the deal and the close mutual relations between the two countries. He also expressed hopes that CETA would help to shape future trade deals around the world.
"We were visionary when we started a decade ago and now this is the right deal at the right time... In an age of rising protectionism and anti-trade rhetoric in the world it sets a new gold standard for progressive trade that works for everyone," Champagne said in a joint press conference with Rinkevics.
"This is a deal for the people and we're going to make sure that everyone, whether it's consumers, workers, exporters, see the benefits for themselves," he added, repeatedly stressing the notion of "progressive trade" and the involvement of small and medium sized businesses, plus women in the economy.
Rinkevics said that not only CETA but also Canada's decision to send troops to lead a multinational battalion of NATO forces in Latvia proved that Latvia represented a secure environment for businesses to thrive.
Prime Minister Maris Kucinskis also joined the chorus of praise, saying CETA brough "only pluses, no minuses".
---