Meet the new NAFTA — same as the old NAFTA
The Hill | 29 April 2019
Meet the new NAFTA — same as the old NAFTA
By Robert E. Scott
Robert E. Scott is a senior economist and the director of trade and manufacturing policy research at the Economic Policy Institute.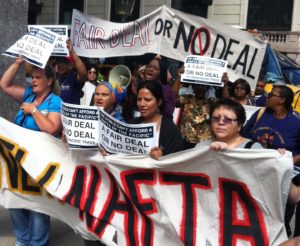 The debate over the North American Free Trade Agreement (NAFTA) spans more than 25 years. The trade deal was originally negotiated by the first Bush administration, then came up for a vote early in President Clinton's first term with opposition from a broad coalition of Democrats, unions, some environmental groups, family farmers and others.
At the time, activists in the U.S., Mexico and Canada opposed the agreement's weak labor protections. Nonetheless, NAFTA narrowly passed in Congress after a vigorous and contentious debate.
With hindsight, we know that critics' objections were justified. The agreement accelerated corporate outsourcing to Mexico, eventually costing at least 682,900 U.S. jobs through 2010. And America's bilateral trade deficit with Mexico grew by at least $97 billion.
On the campaign trail in 2016, candidate Donald Trump railed against NAFTA's inequities — and vowed to do better — calling NAFTA the "worst trade deal ever negotiated."
Since taking office, his administration has worked to renegotiate the agreement. Last fall, the president's team unveiled an updated "U.S.-Mexico-Canada Agreement" (USMCA). Unfortunately, the resulting document offers little for U.S. workers hoping to find greater job security in the face of subsidized global competition.
Last week, the U.S. International Trade Commission (ITC) released its assessment of the USMCA's economic impact. Overall, they foresee a minor, positive impact — a GDP increase of 0.35 percent over six years, along with 176,000 additional jobs in the domestic economy, including 28,000 in the U.S. automotive and parts sectors.
One aspect of the ITC's estimate focuses on labor rules that could "increase Mexico union wages by 17.2 percent, assuming that these provisions are enforced." That's a major "if," but it holds the promise of real, honest enforcement of labor provisions for Mexico's factory workers.
Only 14.5 percent of Mexico's labor force is unionized and many belong to weak company unions. The AFL-CIO, other labor unions and members of Congress are now demanding that "enforcement tools" be included in the deal to ensure actual progress.
Note that such increases in Mexican wages might only happen after struggles that take longer than the six-year timeframe of the ITC assessment.
Some of the most noteworthy changes in the USMCA involve stronger rules of origin for motor-vehicle content, plus requirements that 40-45 percent of the labor involved earns at least $16 per hour.
Companies not meeting these requirements would face a tariff on exports to the U.S. But as the Center for Automotive Research notes, the tariff amounts to a mere 2.5 percent. Companies could simply ignore these wage and content requirements and instead pay the minor tariff.
The ITC admits that the USMCA would slightly increase U.S. car prices, resulting in some losses in car sales and employment. But they believe these losses would be more than offset by increased domestic parts production.
However, companies could instead offshore more production to other low-wage locations. In fact, researchers at the International Monetary Fund (IMF) recently concluded the USMCA would result in a loss of $794 million for the United States, with motor vehicle and parts output declining in all three countries by an average of $7.6 billion.
Overall, the USMCA's benefits appear highly questionable, with many net gains expected to come from increased "certainty" for investors — thanks to new regulations for internet commerce and data transfer that are expected to increase investment.
But at what cost? More offshoring and job loss? The ITC claims that greater "certainty" would add 0.47 percentage points to future U.S. GDP. It's a reed-thin margin on which to assume the deal's benefits, particularly when the USMCA also contains a six-year sunset clause.
Trade agreements have become much more complex in the face of regulatory shifts and changing corporate strategy. And the ITC's track record on economic modeling doesn't inspire confidence either, namely, the errant projections for the U.S.-Korea trade deal and Beijing's 2001 entry into the World Trade Organization.
The USMCA simply follows the failed model of prior free-trade agreements adopted over the past 25 years, which facilitate corporate offshoring to low-wage countries while undermining democratic power. The USMCA may nibble at the edges of such long-standing precedent, but it doesn't appear to make real progress.
The locations may change — factories moving onward from Mexico to China, Malaysia or Vietnam, for example. But the results remain the same. It's time for a genuinely new trade model, and President Trump's team should go back to the drawing board in order to incorporate realistic provisions that can actually save U.S. jobs, not relocate them.
---