Mercosur delays free-trade offer to EU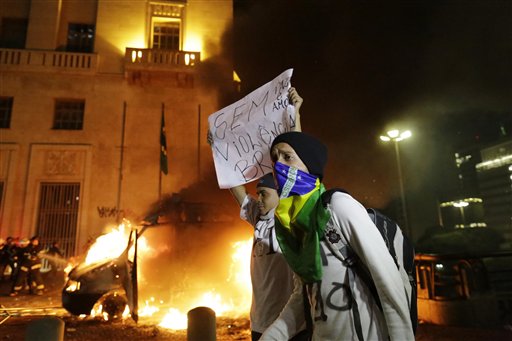 Buenos Aires Herald | 19 February 2016
Mercosur delays free-trade offer to EU
Brazil, Argentina vow to move toward commercial agreement on vehicle imports, exports
The Mercosur bloc is unlikely to exchange free-trade offers with the European Union (EU) before March, Argentine and Brazilian government officials said yesterday, a move that amounts to delaying the much-anticipated exchange that was supposed to take place in the first three months of the year.
Officials are now promising the exchange will take place within the first half of the year.
Brazilian Trade Minister Armando Monteiro visited Buenos Aires to propose the free trade of vehicles, in a major policy shift for the two neighbours.
A severe recession entering a second year is forcing the government of President Dilma Rousseff to open up the economy to help exporters benefit from a weaker Brazilian real.
Both countries "aim to achieve gradually and under fair conditions the free trade of cars," Brazil's Trade Ministry said in a statement.
While both governments agreed to move forward with that goal, it will be gradual and to be implemented on the long-term, following the creation of a bilateral commission to review the issue.
"We'll do everything we can to exchange free-trade offers with the European Union as soon as possible. It will most likely be in the first half of the year," Production Minister Francisco Cabrera said in a joint press conference with Monteiro.
The reason for the delay of the exchange of offers lies on the EU request for the Mercosur bloc to increase the total trade volume to be included in the final agreement. Mercosur has so far agreed to include 87 percent of its trade volume as part of the offer, lower than the 93 percent that the EU has put forward.
Monteiro said the Mercosur could very well improve upon its previous offer.
"I believe that Mercosur offer could undergo some adjustments," he said. "We're certain that based on Argentina's firm intent to move forward we'll be able to exchange offers possibly in this semester. Brazil sees this agreement as a very important one."
Representatives from the EU and Mercosur had initially agreed to exchange offers for a free trade agreement before the end of 2015 but several European countries were reluctant to do so as they complained Mercosur's offer was insufficient. The goal was postponed to this quarter as Macri's win increased hopes for a deal.
The Mercosur and EU officially relaunched trade negotiations at a summit in Madrid on May 2010 and since then the objective of the two blocs has been to negotiate a comprehensive deal. Negotiations have been hard-fought because both sides want to make sure the deal includes everything from industrial goods and agricultural production to services and intellectual property.
Some member countries such as Uruguay have been pressing within Mercosur to seal a deal with the European Union that would allow it to enter new markets. But Mercosur expressly forbids its members from reaching free trade agreements as individual countries rather than as a bloc.
Auto deal
A set of "conditions" have to be fulfilled in order for vehicle trade to be freed between the two countries, including Brazilian investments in the Argentine auto parts sector, Cabrera said yesterday, expressing hope that will happen as "soon as possible."
In the meantime, vehicle trade between Argentina and Brazil will continue to be based on a bilateral treaty, signed last year and set to expire in June. Based on the deal, Brazil has to purchase one million Argentine cars for every 1.5 million Brazilian cars that Argentina imports.
Cabrera and Monteiro said both countries have to find new markets to export vehicles and highlighted the potential of the Pacific Alliance. Trade between Brazil and Argentina reached a US$339-million deficit in January, the largest since October 2013.
"We have set a medium-term goal to liberalize vehicle trade but it's evident some conditions have to be met in order for that to happen," Monteiro said.
Vehicle production dropped 12 percent last year in Argentina, according to ADEFA vehicle manufacturers chamber. Exports dropped 31.3 percent.
---