Mexico farmers warn of year of protests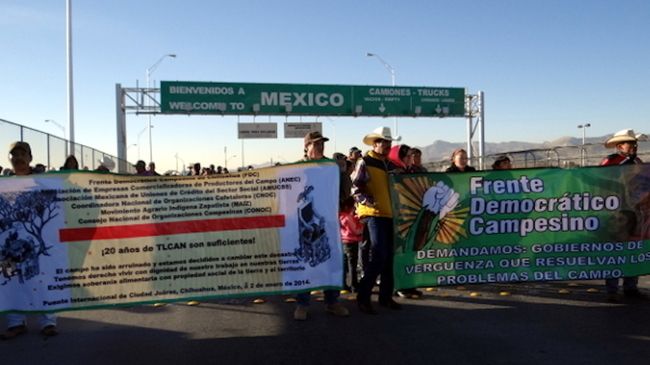 Press TV | Sun Jan 5, 2014
Mexico farmers warn of year of protests
Mexican peasant organizations have warned of a year of protests unless the federal government fulfills its promise to end the disastrous effects generated by the North American Free Trade Agreement (NAFTA).
The organizations gave the warning in a review published in the Mexican newspaper La Jornada on Saturday.
All social and peasant organizations across the country were called on to join a national movement to demand President Enrico Pena Nieto to resolve rural problems, including abandonment, poverty, insecurity and migration.
Opponents say the trade agreement has only benefited a few while employees and farm workers continue to struggle.
Fernando Ortega, the leader of the Democratic Peasant Front in the state of Chihuahua, said farmer organizations were to gather next week in the port of Veracruz on the eastern coast to discuss the disastrous effects of NAFTA.
In addition, Ortega said a major demonstration is to be announced for January 31 in Mexico City as the trade agreement has only worsened the crisis of the Mexican countryside.
This comes as farmers held a protest on the 20th anniversary of the NAFTA agreement at the border to the United States earlier this week.
Since the trade agreement was introduced on January 1, 1994, the United States has been exporting its products to Mexico tax-free, making small-scale local production much less competitive.
---