Modi's Pak stopover ignites hope for trade talks
The Hindu, Business Line, India
Modi's Pak stopover ignites hope for trade talks
By Amiti Sen and Nayanima Basu
27 December 2015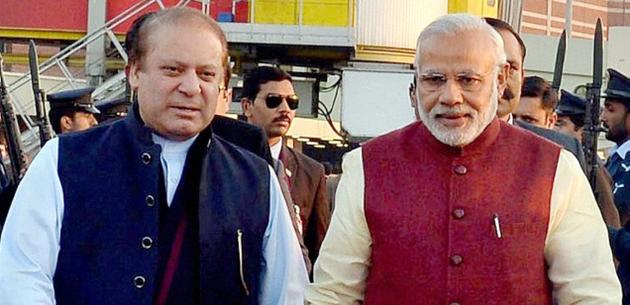 Prime Minister Narendra Modi and his Pakistani counterpart Nawaz Sharif in Lahore PTI
New Delhi : Trade dialogue between India and Pakistan — officially in the cold storage for almost three years — is set to be revived, now that Prime Minister Narendra Modi has broken the political ice with Islamabad with his Christmas visit to Lahore.
"We expect the nod to re-start trade talks to come soon, as both the countries stand to gain from increased liberalisation. It will not be difficult to pick up the thread from where we left, as talks between officials continued informally during the period," a Commerce Ministry official told BusinessLine.
One such meeting was held in July this year when the Pakistani officials said they could get back on the negotiating table as soon as the political climate was suitable, the official said.
According to diplomatic sources, once the Foreign Secretary-level talks take place on January 15, both sides will kick-start a dialogue on trade. The stalled Commerce Secretary-level talks might also resume, albeit in a refurbished format.
SAARC meeting
"If talks do not happen now, then they cannot ever happen. However, nothing will be announced before the SAARC meeting (scheduled to be held in Islamabad in 2016). The multilateral platform will help in pushing bilateral agenda," another official said.
The Indo-Pak trade dialogue, which has the potential of increasing bilateral trade from the current $2.5 billion to an estimated $20 billion, was stalled in January 2013 following violence at the Line of Control in Kashmir two years after its successful re-launch.
MFN status
Although, going by the roadmap for liberalisation agreed to by both the countries in September 2012, it is Pakistan's turn to make the next move by extending the most favoured nation (MFN) status to India.
But this may take time because of the political ramifications.
The MFN status, now re-named non-discriminatory market access (NDMA) because of its greater political acceptability, would result in dismantling of the ban on the remaining 1,209 items from India.
"We expect Pakistan to speed up its internal processes to ensure extension of NDMA sometime in the near future, but the opening up process should not stop," the official said.
Sensitive items
In fact, talks are on to prune the negative list further as the "next step" towards grant of MFN, sources said.
Pakistan has already increased the number of items allowed from India from just about 2,000 items in 2011 to more than 6,800 now.
India, in turn, has reduced the list of sensitive items, under SAFTA, for Pakistan, on which it maintains high tariffs, to 614 items from 878 items.
It has promised to bring down the list to 100 as soon as it gets NDMA.
Trade realisation
"The opportunity should now be seized for trade facilitation between the two countries. Trade liberalisation that has happened till now should result in trade realisation," said trade expert Nisha Taneja from ICRIER.
According to Taneja, measures, such as ensuring that the train operating between the two countries runs as per schedule and sincere attempts to address non-tariff barriers could help substantially in realising the untapped bilateral trade potential.
---