Moldova president hopes to cancel EU association agreement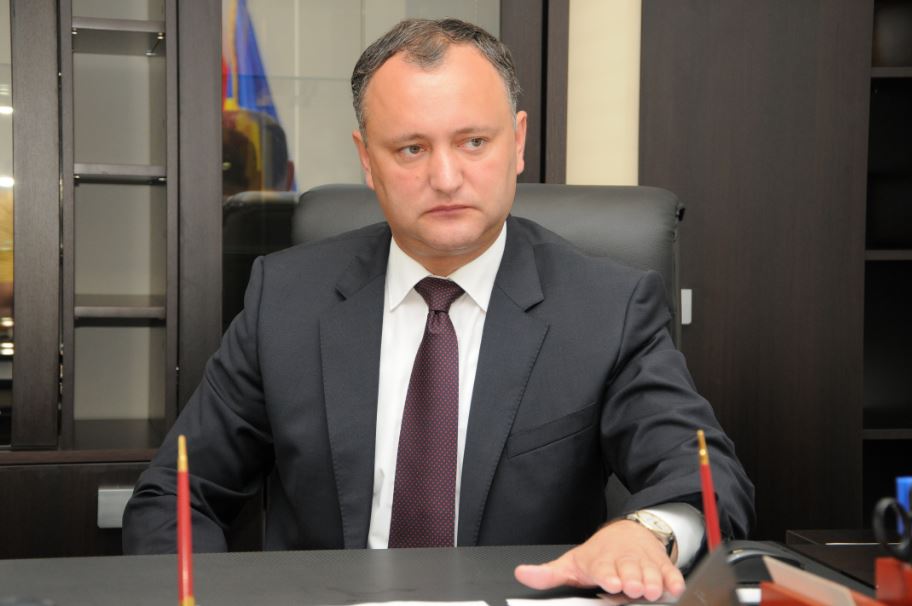 Yahoo | 17 January 2017
Moldova president hopes to cancel EU association agreement
(AFP) Moldova's president said Tuesday he hoped the ex-Soviet nation's association agreement with the European Union would be cancelled if his party obtains a parliamentary majority, paving the way for an alliance with Moscow.
Speaking after talks with President Vladimir Putin in the Russian capital, Igor Dodon, who won an election in November against a pro-European opponent, said he is seeking "full reestablishment" of economic cooperation with Russia because the EU deal did not bring promised trade.
"This agreement did not bring any positive aspects to Moldova. We lost the Russian market while our exports to the EU also fell," said Dodon, who symbolically picked Moscow as his first foreign trip as president and called the visit "a historic day for Moldova-Russia relations."
"I don't rule out that after the next parliament polls this will be the position of the parliamentary majority, and I will support this position," he said.
He said he hoped the Socialist Party he had led "will get a parliamentary majority and that this agreement will be annulled."
Moldova's parliamentary polls are scheduled for late 2018 but Dodon said he did not rule out the holding of elections this year.
He made it clear he will seek to prepare the paperwork for joining the Moscow-led Eurasian Economic Union while also aiming to improve conditions for trade with Europe.

Resolving Transdniestr
Moldova is wedged between Ukraine and Romania and has an East-West cultural and linguistic split similar to Ukraine.
One of Europe's poorest states and with a population of 3.5 million, it is plagued by corruption and relies on remittances from its nationals working in Russia and EU countries.
The country suffered from a brief 1990s civil war in its south which ended with the Russian-speaking Transdniestr region breaking away and declaring independence.
Dodon earlier this month became the first Moldova leader since 2008 to visit the region, prompting indignation from pro-EU politicians in the country but praise from Putin, who said Tuesday that he welcomed his "courage".
If Chisinau reaches a compromise with Transdniestr, where Moscow has thousands of troops, "we will certainly act as guarantors on implementing all the agreements," the Russian president said.
Dodon in turn said: "I hope that with the active participation of our strategic partners from Russia, we will make headway in resolving the problems" between Transdniestr and Chisinau.
He called Transdniestr "a part of Moldova."
Dodon said he agreed with Putin to begin talks on signing a "framework memorandum" on cooperation with the Eurasian Economic Union, but also plans to speak with EU officials and "show them the figures" on a visit to Brussels in February that will be his second foreign trip.
---