Nasheed accuses China of land grab in Maldives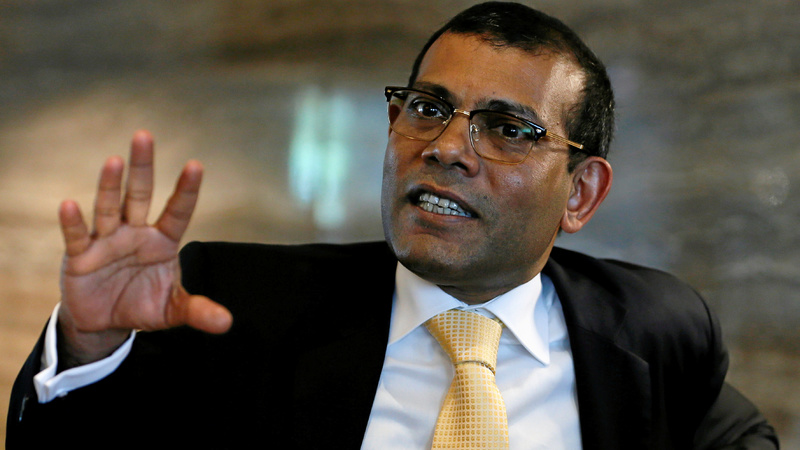 Outlook | 22 January 2018
Nasheed accuses China of land grab in Maldives
In a veiled attack on China, exiled former Maldivian president Mohamed Nasheed today accused "a large, emerging power" of "land grab" in the strategically located island and buying up its sovereignty.
He also said this year's elections in the politically- troubled nation were the last chance to save democracy.
Nasheed, 50, the country's first democratically-elected leader — was sentenced to 13 years in jail on terror charges in March 2015 over the arbitrary arrest of chief criminal judge Abdullah Muhammed during his presidency.
He was granted asylum in the UK after he was authorised to seek medical treatment there amid mounting foreign pressure.
He said the opposition would put forward a unity candidate if he was prevented from contesting the elections.
He said it was important to vote out President Abdulla Yameen as "a large, emerging power is busy buying up the Maldives".
"Buying up our islands, buying up our key infrastructure, and effectively buying up our sovereignty. This land grab is very worrying," he said in Colombo without directly naming China.
The land grab was happening because of a Free Trade Agreement, Special Economic Zones and an amendment to the Constitution authorising foreign ownership of land or freeholds, Maldives Independent quoted him as saying.
The Constitution previously prohibited foreign ownership of any part of Maldivian territory but was changed in 2015. Critics fear the move could enable China to set up bases in the Maldives.
Maldives recently signed an FTA with China, causing concerns in India.
This year's elections were the last chance to save democracy in the country, he said in Colombo, where his Maldivian Democratic Party (MDP) activists are based.
"If I can contest I will. If I am not allowed, it will be seen as unconstitutional," he said.
The opposition would not boycott the elections if Yameen ignored any UN ruling, he said, adding the four leaders were "in principle, in agreement, about fielding a common candidate".
While President Yameen's term in office will end in November this year, according to the Constitution, the presidential elections are to be held in August.
Nasheed was narrowly defeated in 2013 by President Yameen. Nasheed says his conviction on terror charges was politically motivated.
The Maldivian government holds that Nasheed is convicted for a crime and is wanted in the Maldives to serve a jail sentence. Nasheed said he will seek UN support to ensure he is allowed to contest.
---