Network calls for rejection of free trade agreement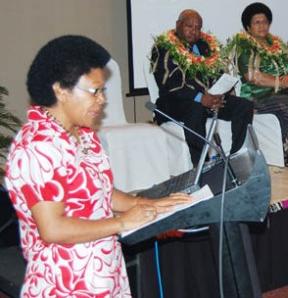 Fiji Times | Wednesday, January 18, 2012
Network calls for rejection of free trade agreement
Tevita Tuiwavu
FIJI Network for Positive People believes that the Asia Pacific Network of People Living with HIV/AIDS meeting will be an opportune time to advocate for continuing availability of generic Anti Retro Viral treatment in the face of threats from Free Trade Agreement negotiations.
The APN Plus annual general meeting will be held next month in Bangkok, Thailand.
FJN chairperson Joana Qereqeretabua said the meeting involved consultations with board members, advisers and other key positive leaders to seek their advice and feedback and to identify priority areas from perspective of each country network.
"I'm grateful to be representing Fiji to the APN Plus meeting and this would be opportunity for me get into group discussion and also to share idea on how to improve the lives of people living with HIV/AIDS in Fiji," Ms Qereqeretabua said.
"There are other issues that need to be raised in this meeting like the sustainability of ARV supplies and how we, not only the people of Fiji but the rest of the pacific countries have become victims to the limited second-line drugs. It is important that we discuss and also say no to the free trade agreement because it will limit the supply of ARV treatment for people living with HIV in the Pacific."
The meeting which will discuss key successes, key challenges and future opportunities will see representatives from Australia, Bhutan, Cambodia, China, Guam, Indonesia, Iran, Japan, Laos, Malaysia, Myanmar, Nepal, New Zealand, Papua New Guinea, Pakistan, Philippines, Singapore, Sri Lanka, South Korea, Timor Leste, Thailand, Vietnam, Bangladesh, Mongolia and Fiji.
"There will be a lot of issues raised in this meeting and I believe that we should continue to participate in this meeting because regional networking helps improve collaboration and exchange of information from Fiji to the rest of the Asia and pacific countries."
Ms Qereqeretabua added that the APN Plus meeting will enable people living with HIV/AIDS in the Pacific to speak with one voice.
---