New centre opened in Thailand as part of China's Digital Belt and Road program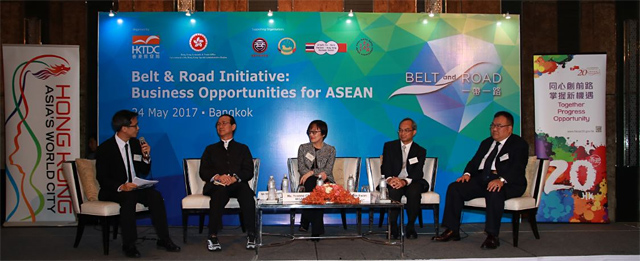 Open Govt Asia | 13 March 2018
New centre opened in Thailand as part of China's Digital Belt and Road program
by Priyanka Bhunia
The National Research Council of Thailand (NRCT) together with Chinese Academy of Sciences (CAS) has opened an international centre as part of China's Digital Belt and Road (DBAR) program. The centre promotes cooperation at the international level and manages risks associated with climate change.
DBAR ICoE-Bangkok is one of eight such centres around the world. The seven other centres are in Pakistan, Italy, Morocco, Zambia, Finland, and Russia and the US.
NRCT Secretary-General Sirirurg Songsivilai, signed a memorandum of understanding with Guo Huodong, Chairman of the DBAR program on 27 February 2018.
According to the agreement, the Digital Belt and Road International Centre of Excellence Bangkok (DBAR ICoE-Bangkok) will promote international cooperation and exchange of expertise and technology.
The Centre will focus on cooperation in the areas of climate change, disaster risk reduction, environmental research, capacity building, among others. Leveraging Earth observation (EO) and big Earth data from satellites and other sources, the project can provide information for decision-makers to refer to in the implementation of projects the Belt and Road (B&R) Initiative.
The extensive geographical scope of the Belt and Road [1] Initiative calls for research and monitoring capacity that can address a vast array of development issues and support the design, development and implementation of diverse projects in these areas.
This information can be applied to research, decision making, project development and monitoring in seven primary areas: environmental protection, disaster risk reduction, water resources management, urban development, food security, coastal zone management and the conservation of natural and cultural heritage.
DBAR ICoE-Bangkok is supported by the NRCT, the Asian Institute of Technology, the Geo-Informatics and Space Technology Development Agency, and Ramkhamhaeng University. The involved agencies will gather and integrate data on climate change, in order to reduce risks associated with natural disasters and support research on sustainable development.
The DBAR program was established in 2016 by Chinese scientists, in cooperation with experts from more than 20 countries and international organizations to promote global sharing of expertise, knowledge, technologies and data through EO and big Earth data from satellites and other sources. It aims to address the discrepancy in the quality, volume and variety of data being generated by different countries in the region and in their EO infrastructure and EO data analysis capabilities.
This would play a critical role in mitigating threats to fragile and shared ecosystems and countering other challenges arising from large scale development.
The DBAR Science Plan document (pdf download) states that DBAR is committed to implement projects and actions relevant to the 17 Sustainable Development Goals (SDGs) adopted by the United Nations in September 2015. It also strives to integrate green, low-carbon and sustainable approaches to social and economic growth that are vital for the implementation of the 2015 Paris Agreement.
The DBAR Science Plan aims to link five levels of actions: 1) Link multiple data streams into an integrated, distributed data repository; 2) Design and development of an ICT infrastructure to support remote discovery, access, processing analysis of EO data in a virtual (cloud) environment; 3) Research on Earth System Science primarily based on EO data; 4) Interaction within communities of scientific; and 5) professional stakeholders Dissemination of SDG–relevant outcomes.
[1] China's Belt and Road Initiative aims to build trade and infrastructure networks connecting Asia with Europe and Africa based on ancient land and maritime trade routes.
---