New round of Malaysia-US FTA talks may resume sooner than expected
Bernama | May 21, 2009
New Round Of Malaysia-US FTA Talks May Resume Sooner Than Expected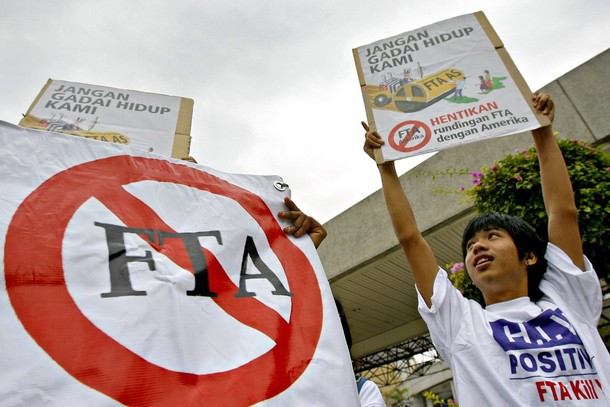 KOTA BAHARU, May 21 (Bernama) — Malaysia is on the right path for a new round of Free Trade Agreement talks with the United States, following the liberal policies announced by the Malaysian Government recently.
The US Ambassador to Malaysia James R.Keith said the present Barrack Obama administration was in the process of reviewing the aspects of the agreement and would speed up the new round of talks with Malaysia.
US President Obama's policy to strike a win-win situation for both countries is very clear and this concerns two financial and business aspects of the agreement namely the financial and government procurement sectors, he said.
Malaysia stands to gain from the US$250 billion worth of government contracts offered by the US if the FTA materialises.
The three-year negotiations between the two countries however would have to take a backseat first until the review is completed as soon as the trade and financial trips by the president in the Asian region are concluded and following the main Doha Development Round and regional talks scheduled this year, Keith told local bureau chiefs during a roundtable session here as part of his visit to the East coast states since May 19.
"I believe that although we are faced with the global financial slump, things are going on as usual and before we know it, the talks may resume sooner than expected," he said.
He said Obama was on a global trip to extend his friendly gestures to all continents and with this, Malaysia's bilateral relations with the US in the areas of military, law enforcement, commerce and foreign policies would be enhanced. The Doha Round is the current trade-negotiation round of the World Trade Organization (WTO) which commenced in November 2001.
Its objective is to lower trade barriers around the world, and allow countries to increase trade globally.
As of 2008, talks have stalled over a divide on major issues, such as agriculture, industrial tariffs and non-tarriff barriers services, and trade remedies.
The most significant differences are between developed nations led by the European Union (EU), the United States (USA) and Japan and the major developing countries led and represented mainly by India, Brazil, China and South Africa.
There is also considerable contention against and between the EU and the U.S. over their maintenance of agricultural subsidies-seen to operate effectively as trade barriers.
The most recent round of negotiations on July 23, last year, broke down after failing to reach a compromise on agricultural import rules.
After the break down, major negotiations were not expected to resume until 2009.
Nevertheless, intense negotiations, mostly between US, China and India, were held in the end of 2008 in order to agree on negotiation modalities.
However, these negotiations did not result in any progress.
---