No free trade agreement if EU bans palm oil: Mah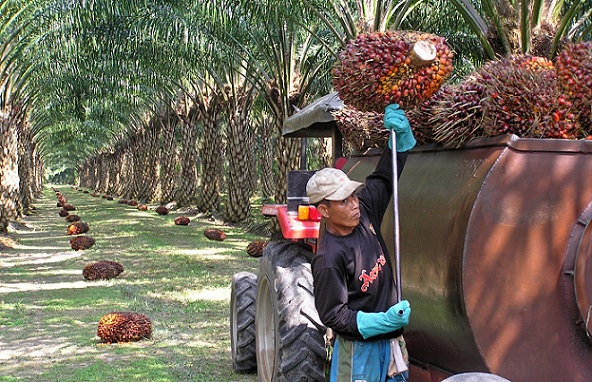 The Straits Times | 4 March 2018
No free trade agreement if EU bans palm oil: Mah
By OOI TEE CHING
Malaysia's free trade agreement talks with the European Union (EU) must address trade barriers that discriminate palm oil because this is a priority, a Cabinet minister said.
"The EU is a very important trading partner to Malaysia and I thank Datuk Seri Mustapa for taking up this issue of barriers against palm oil trade in negotiating a free trade agreement with the EU," said Plantation Industry and Commodities Minister Datuk Seri Mah Siew Keong.
The EU-Malaysia free trade agreement negotiation was initiated in 2010 and in 2012 it was set aside. After a lull of five years, it resumed discussion late last year.
"Malaysia can only sign on a free trade agreement with the EU, if the deal is mutually beneficial. As long as the EU continue to discriminate against palm oil, it violates the essence of free trade," Mah said.
The European Parliament had, two months ago, voted in favour of a draft law on renewable energy that calls for the use of palm oil in biofuels to be banned from 2021.
Malaysia and Indonesia will be hard hit as they are the world's top exporters of palm oil.
International Trade and Industry Minister Datuk Seri Mustapa Mohamed raised the issue when he met with EU Trade Commissioner Cecilia Malmstroem on the sidelines of an Association of Southeast Asian Nations (Asean) trade ministers' meeting in Singapore.
Malmstroem told the media in Singapore that she had updated Asean ministers of the legislative proposals, and the ban on palm oil was not the final outcome of the EU.
Malaysia and Indonesia's five million oil palm planters supply around 60 million tonnes of palm oil or 86 per cent of global output.
The EU is the world's second-largest palm oil customer buying some RM10 billion per year from Malaysia.
At the beginning of this year, Mah announced the government had allowed CPO exports to be duty-free for three months until end- March 2018 to clear high stocks in the country.
"This is the last month of exporting CPO without paying tax. So, I advise all planters to export as much CPO possible because starting April 2018, the duty-free status for CPO would revert to being taxed," said Mah, who is also Member of Parliament of Teluk Intan.
Mah was speaking to reporters at the Yayasan Sime Darby's handing over of financial aid to 500 deserving students from 12 schools in Teluk Intan, Perak, over the weekend.
The minister went on to acknowledge that productivity at oil palm estates throughout Malaysia had been hampered by viscious attacks of bag worms.
"Some 33,000ha of oil palm area had been destroyed by bag worm infestations. I have instructed the Malaysian Palm Oil Board (MPOB) to initiate this drive nationwide to rid of this pest becase the livelihoods of more than 13,000 smallholders are affected.
"We've allocated RM20 million for this. We will use all methods to apply this insecticide including tractors and drones for hard to reach area. We learn from our previous mistakes and strive to be more effective and efficient, this time," Mah said.
---