One year on from TPPA mass protests – how we can shape trade for the 99% not the 1%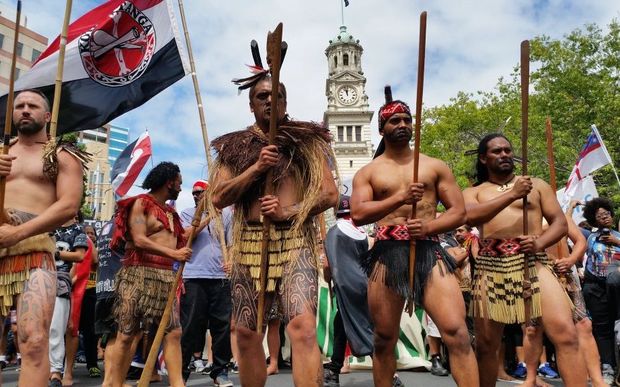 The Daily Blog | 5 February 2017

One year on from TPPA mass protests – how we can shape trade for the 99% not the 1%
By Prof Jane Kelsey
The governments and corporate lobbies that champion these deals are in a state of denial and desperately trying to rescue their bankrupt model. This year we begin work with others internationally to set a new agenda for international economic agreements that really work for people as part of a new economic paradigm.
A year ago today tens of thousands of Kiwis took to the streets around the country to protest the signing of the Trans-Pacific Partnership Agreement (TPPA). The ground trembled as Ngati Whatua o Orakei and Te Waka Huia led the march down Queen Street. It was an extraordinary moment, as the TPPA became a lightening rod for people's sense of alienation and disempowerment after decades of neoliberal governments that didn't give a damn about them.
The government remained arrogant and contemptuous. Media ridiculed people who said they were there because their instincts told them it was bad for them and the country.
They knew all they needed to : TPPA was a secretly negotiated deal that put the interests of Fonterra, Hollywood and Big Pharma, Wall Street and Exxon ahead of them. Others who knew more were there to defend te Treaty and democracy, access to affordable medicines and the right to decide our own laws without the government being threatened with crippling law suits by foreign investors using private offshore tribunals.
A year later, the same message been reverberating reverberated around Europe, the US and beyond. Brexit and the election of Donald Trump are symptoms of that underlying malady. Both are portrayed as aberrations. But neither would have happened without fertile ground. The crisis in financialised capitalism, neoliberal ideology and spectator democracy continues to erupt. People, not corporations, pay the price when it does.
In the US that price may prove truly terrible, as every day heralds another human tragedy in Trump's quest of 'making America great again for working people'. As my mates in DC say, no-one knows what he will say and do tomorrow. There is no logic and there are no rules.
Two weeks after Trump took office some things are becoming a bit clearer in relation to the TPPA, although they are still changing every day.
First, the TPPA as it was signed a year ago is dead. It was dead before Trump. The reason it fell to him to pull the plug was that Obama wouldn't put the agreement before Congress because he would have lost the vote and there is no repeat vote under Fast Track. Once Congress got to pick it apart, the TPPA would look nothing like the 'final' deal.
The wording of Trump's executive order that withdraws US participation from the TPPA makes it impossible for the other eleven countries to bring it into force or to change those rules so they can. Even if they did it is unlikely they would get the necessary buy in.
So far only New Zealand and Japan have ignored widespread opposition from public and MPs and passed all the implementing legislation.
The Australian Senate committee's report on the agreement is due on Tuesday. The Liberals don't control the Senate. Whether the TPPA is rejected will depend on Labor, whose public position has been to drop the deal. After some blustering, Turnbull has conceded there is little point in taking the next step to introduce the implementing legislation.
Trudeau's government in Canada was still conducting consultations pending the US election. Chile, Mexico and Peru likewise decided to wait and see. Vietnam delayed its legislation until this year. None of them will now proceed.
Second, the remaining eleven are nevertheless scrambling to rescue what they can. Too much political capital and resource has been invested in TPPA to let it completely fail. They have brazened out the flack that followed the signing and the sky didn't fall. But there are very mixed views about what next.
Australia originally proposed a deal among the eleven and is keen on something. Peru wants to rescue the deal but take out the 'bad bits', mainly affecting medicines. Malaysia wants to proceed. Mexico is keen to pursue bilateral deals. Japan sees no value without the US but Prime Minister Abe has also taken huge political risks in pushing the TPPA.
There is no secretariat to take the lead. But New Zealand is the depositary for the agreement. On instructions from English, trade minister Todd McClay is off to Singapore, Japan and Mexico to check out their views. Vietnam, Malaysia and Brunei are also on his list.
Presumably, this is preparatory work for a ministerial meeting that Chile is hosting on 14-15 March to discuss what next. They have also invited China, South Korea and Colombia, but it's not clear whether China especially will go. Given the current disarray, it is hard to see anything concrete coming from this meeting aside from commitments to bilateral negotiations. But they are desperate, so who knows.
Third, the Trump team is proposing bilateral negotiations with countries it doesn't have FTAs with and renegotiating those it does, with NAFTA between the US, Mexico and Canada top of the list. The Mexicans are terrified. NAFTA forced their economy to become dependent on the US and that now door may close, causing a social and economic catastrophe. Mexico's President Nieto has staunchly rebuffed Trump's edicts on the wall, but he knows that renegotiation is the lesser evil when the US could withdraw from NAFTA altogether.
Australia has said it won't renegotiate its FTA. The Australian Productivity Commission has repeatedly said the original deal was not in the country's net interest, and it could only lose more in a renegotiation.
Japan's Abe will meet Trump on 10 February where bilateral negotiations and security will top the agenda. The director of Trump's special National Trade Council Peter Navarro is already demanding more concessions on motor vehicles, agriculture and medicines than Japan gave in the TPPA, and has added binding rules on so-called currency manipulation that would put unacceptable handcuffs on Japan's central bank.
What about us ? Navarro said this week that withdrawing from TPPA would not strengthen China's grip on the region because the US was going 'right to Japan and Australia, New Zealand, Malaysia and Thailand and negotiate bilateral deals. … Every country in [the Asia-Pacific] region loves to be with America because we represent democracy, freedom, economic growth, prosperity'. Without an iota of irony.
You can hear our man in Washington Tim Groser, trade minister McClay, MFAT, Fonterra and the other cheerleaders salivating, while they try to ignore the rational voice that says an FTA with the US, especially Trump's US, would be economic and political suicide. Bill English has already conceded the chances of a 'good FTA' with the US were very low, but they would still negotiate. His weasel-words to describe Trump's ban on immigrants and refugees from seven Muslim-majority countries wasn't just because they were seeking clarification on those with dual citizenship. It was all about the Holy Grail of a US FTA.
Ambassador Groser has been schmoozing Trump's inner circle, including 'Kiwis' Peter Thiel and Chris Liddell, and has hired former Trump campaign manager Stuart Jolly to lobby on New Zealand's behalf, supposedly for entry visa for investors, but you can be sure it is mainly for the FTA.
Why ????? If Trump sees the TPPA as a bad deal for America, when it was driven by and for US corporations, a new deal that 'put America first' will screw us into the ground. Trump can still negotiate using Fast Track, meaning Congress would have to say 'yay' or 'nay' to the final deal. They couldn't manage that with the TPPA, so a NZ FTA would have to look a lot more favourable to the US than that.
The scenario is so predictable : the US begins the seduction, the government talks up the potential gains, and the US tightens the screws knowing a New Zealand government will never walk away.
How do we know an FTA would be worse than the TPPA ? Simply because we have no bargaining power. What do we have that the US wants ? Already Trump has said he would require any new deals to allow him to walk away after 30 days if the other country 'misbehaves'. No suggestion of any dispute hearing. Just raw power. Next, pay more for US medicines. Meeting with Big Pharma this week, Trump vowed to make other countries pay more for medicines : "Our trade policy will prioritize that foreign countries pay their fair share for U.S. manufactured drugs". If the monopoly rights in the TPPA were a 'bad deal', imagine what Pharma will push Trump to do in an FTA.
There is a slight ray of good news. Fast Track requires the President to give 90 days' formal notice before beginning a negotiation, and to consult congressional committees before that. That might be the only transparency we get, but at least we would know when it might begin and the basic US demands.
That will be the start of a hell of a campaign. Labour, where will you be ? Likewise, New Zealand First with Shane Jones ?
Finally, a bigger picture concern. Even though the TPPA will never come into force it has created a new norm that the parties, including the US, are taking into negotiations with each other and with other countries. Ironically, the TPPA-11 now 'own' many of the US-driven provisions that they fought inside the negotiating room for years, meaning US corporations will get the benefits with the US giving anything in return.
That position is obvious from the latest dump of leaked texts from the Trade in Services Agreement (TiSA) negotiations posted on bilaterals.org last week.
It is also happening in the China-ASEAN led Regional Comprehensive Economic Partnership (RCEP). Everyone will be watching how China and ASEAN respond when Japan hosts the next round of negotiations in Kobe in late February. New Zealand, Australia, Japan and by proxy, South Korea – will be pushing even harder for their TPPA 'gold standard'. The ASEAN countries are split. Some are speculating that China may have less urgency to conclude RCEP now it is not competing with the TPPA, and that will ease the pressure on India too.
In sum, the governments and corporate lobbies that champion these deals are in a state of denial and desperately trying to rescue their bankrupt model. This year we begin work with others internationally to set a new agenda for international economic agreements that really work for people as part of a new economic paradigm.
---