Pacific Alliance, associate members kick off free trade negotiations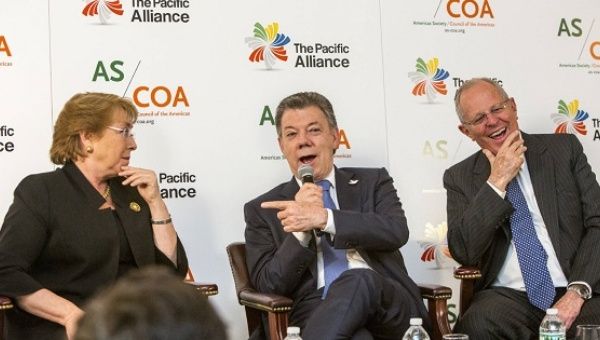 ICTSD | 2 November 2017
Pacific Alliance, associate members kick off free trade negotiations
The Pacific Alliance met with its incoming "associate members" for the first round of formal free trade negotiations last week in the Colombian city of Cali. The talks aim to confirm Australia, Canada, New Zealand, and Singapore's status of "associate members" to the Latin American trading coalition, in line with a process announced earlier this year.
"We share a goal of greater regional economic integration and freer, more progressive trade that can help create more middle-class jobs and opportunities. This new step represents a strategic opportunity for Canada to advance its ambitious progressive and diversified trade agenda with important and like-minded emerging markets," said Canada's minister of international trade François-Philippe Champagne in the run-up to the meeting.
The talks follow on an invitation extended this summer by the Pacific Alliance to four observer nations – Australia, Canada, New Zealand, and Singapore – to become associate members. The "associate member" status is designed to allow for the Pacific Alliance coalition to negotiate trade deals as a bloc with other interested countries. (See Bridges Weekly, 6 July 2017)
"With these agreements, the Pacific Alliance is closer to consolidating itself as a platform for economic and commercial integration and projection to the world, with special emphasis on the Asia-Pacific, the most economically dynamic region in the world," said the Colombian Ministry of Industry and Tourism in a press release following the meeting.
The Pacific Alliance includes Chile, Colombia, Mexico, and Peru, which set up the bloc in 2011 and clinched a framework agreement the following year with the goal of eventually achieving free movement of goods, services, capital, and people, among other public policy objectives. (See Bridges Weekly, 13 June 2012)
First round's results
During the five-day round held last week, the Alliance negotiators presented the planned text of the "commercial protocol" which will serve as a building block for engaging with the associate members' engagement. The participants held nearly two dozen working group meetings, where they discussed the potential timeframe and locations for subsequent gatherings, along with what these may entail.
In addition, participants also looked at scheduling intersessional discussions, with the goal of advancing "as quickly as possible before the next meeting," according to the press release of the Colombian Ministry of Industry and Tourism.
The Colombian statement also noted that representatives advanced on the definitions of terms to use in a future accord, as well as on the possible chapters for inclusion. Negotiators also set dates for presenting market access offers in areas such as rules of origin, cross-border trade in services, and public procurement, the government summary said.
Associate membership and beyond
The associate members involved already have deep ties with the Pacific Alliance, with Canada having free trade agreements with all four members.
The North American nation and the four-country group exchanged C$48 billion in goods trade last year, much of it due to Canada-Mexico trade, according to Canadian government statistics, which note that this figure accounts for over three-quarters of the country's merchandise trade with the wider region.
Proponents say that the upcoming negotiations may help harmonise cooperation in different areas, given the potential overlaps in existing bilateral arrangements that would otherwise operate relatively independently.
"A free trade agreement with the Pacific Alliance offers the prospect to modernise and streamline our existing bilateral agreements with all four Pacific Alliance countries, expand key aspects of these agreements, as well as include progressive trade elements, such as gender, labour, environment, and SMEs," states the Canadian government press release. The term SMEs refers to small and medium-sized enterprises.
Similar hopes have been expressed by Australia and New Zealand, which were also invited to become associate members. In addition to slashing trade barriers, the Oceanic nations have expressed interest in opening financial markets, increasing agricultural and extractive industry exports, and boosting services trade, among other objectives.
"The Pacific Alliance is a grouping of fast-growing, like-minded economies committed to the liberalisation of trade," said then-New Zealand Trade Minister Todd McClay in late June following the announcement of the planned associate member status, according to comments reported by Reuters.
Commenting on the purpose of the associate membership status, Chilean President Michelle Bachelet said at the time that the category is obtained by countries "with which the Pacific Alliance as a bloc subscribe to ambitious and high-standard economic-trade agreements with the purpose of consolidating and expanding integration as an instrument of economic development."
Notably, the negotiations come as talks to modernise the two-decade-old North American Free Trade Agreement (NAFTA) enter a challenging phase. (See Bridges Weekly, 5 October 2017 and 19 October 2017)
Becoming the associate member of the Alliance would secure an additional arrangement between Canada and Mexico, which already have a deep trading relationship.
Separately, Ottawa and the South American trading bloc Mercosur have reportedly resumed preparations for potentially negotiating a future trade agreement, after several years of exploratory talks. Reports suggest that the negotiations could formally be announced by year's end. The Mercosur bloc includes Argentina, Brazil, Paraguay, and Uruguay. (See Bridges Weekly, 11 May 2017)
ICTSD reporting; "Canada, Australia, New Zealand, Singapore Begin Free-Trade Negotiations with Pacific Alliance in Colombia," FINANCE COLOMBIA, 23 October 2017; "Australia, New Zealand launch trade negotiations with Pacific Alliance," REUTERS, 1 July 2017; "Pacific Alliance to admit new associate members to expand trade reach," REUTERS, 30 June 2017.
---