Pacific trade deal PACER-Plus is PACER-minus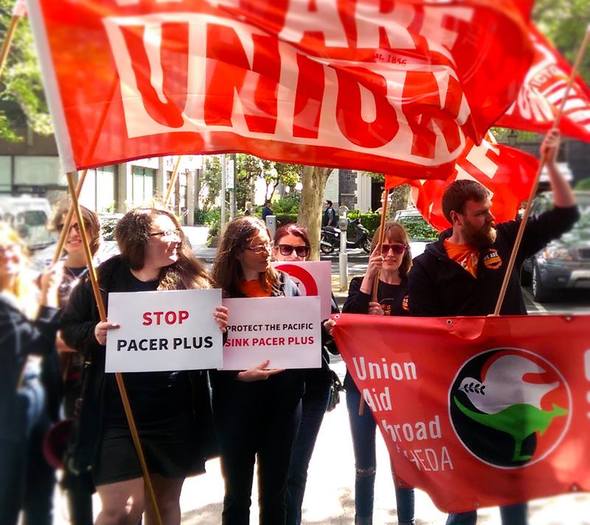 Scoop | 29 November 2017
Pacific trade deal PACER-Plus is PACER-minus
Press Release: AFTINET
Pacific trade deal PACER-Plus is PACER-minus without PNG and Fiji, says AFTINET
"The PACER-plus trade deal with the Pacific Islands, tabled in the Senate today, has not been signed by Papua New Guinea and Fiji, the two largest Pacific island economies which together represent over 80% of GDP of the combined island economies," AFTINET Convener Dr Patricia Ranald said today.
"Without the two largest Pacific Island economies, PACER-plus has failed as a regional agreement and should really be called PACER-minus."
Dr Ranald said that PNG and Fiji's unwillingness to participate also demonstrates that the agreement is heavily skewed towards the interests of Australia and New Zealand - despite early rhetoric that the agreement was as much about development as it was about reducing trade barriers.
Dr Ranald said that Pacific island countries already have tariff free access for their goods in Australia.
"The main purpose of PACER-plus is to reduce tariffs on Pacific island imports from Australia and New Zealand, which will affect local industries. It will also affect the ability of governments to regulate foreign investment in services and other sectors. PNG and Fiji have both said that the agreement does not allow them to develop their infant industries and would restrict government regulation in other areas," said Dr Ranald.
"Tariff reductions could lead to significant revenue losses for smaller Pacific Islands, and it is unclear how these losses can be offset. This could impact on the ability of these governments to provide essential services to their populations," said Dr Ranald.
The concerns of Pacific Island civil society about these issues are documented in a report by the Pacific Network on Globalisation: Defending Pacific ways of life: A People's Social Impact Assessment of PACER-Plus. This called for independent assessments of the social impact of the agreement in Pacific island economies.
"The Senate tabling triggers an inquiry by the Joint Standing Committee on Treaties, and community organisations will be making submissions. We support the call of Pacific island civil society groups for independent assessments of the economic and social impacts of the agreement."
---