Pressure over farmers could stall trade deals : official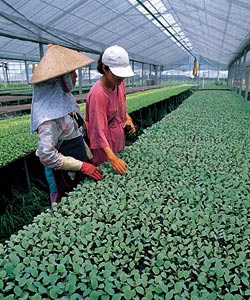 China Post, Taiwan
Pressure over farmers could stall trade deals : official
12 September 12, 2010
Reuters
TAIPEI — Political pressure to protect farmers will stall Taiwan's dreams of signing free trade agreements (FTA) with Southeast Asia, setting back a piece of the island's growth strategy, a senior official said.
Taiwan's US$12.8-billion agricultural sector, dominated by small farms that represent votes, will need "persuading" before the subtropical island known for fruits and tea can sign FTAs with major farm-rich trading partners such as Malaysia or the Philippines, government economic planner San Gee said.
Those countries would follow others, from Brazil to South Korea to the United States, in getting snagged on agricultural protection while negotiating free trade pacts that would slash import tariffs and threaten politically savvy farmers.
Signaling tough talks ahead, the Philippines, a country tipped to be one of the next FTA signatories with Taiwan, maintains a 40 percent rice tariff. That has already upset other Southeast Asian nations that have cut theirs to 20 percent as part of a regional pac.
Taiwan produces NT$33.7-billion-worth of rice a year, and growers are likely to scramble to protect it. Fruit and tea also have powerful Taiwan lobbies.
"The government has a great wish to sign FTAs, but agriculture is undoubtedly one of the major challenging issues," San, vice chairman of Taiwan's Council for Economic Planning and Development, said in an interview.
"In all fairness, we can anticipate that this matter will cause a sure conflict, economically or politically," he said. "As the government, we need to work hard to strike a balance."
Taiwan has sought FTAs with several Southeast Asian nations, which are among its top trading partners, as it expects consent from China following their landmark two-way deal in June.
Taiwan looks to the pacts to help its economy beat global slowdowns and low-cost Chinese competition.
Export reliant Taiwan had not signed pacts earlier because of long standing opposition from Beijing, which sees the self-ruled island as part of Chinese territory rather than as a country.
Only Singapore has begun FTA talks since the China deal was signed in June as the city-state has little agriculture to protect, San said.
"Agriculture is traditionally one of the biggest sticking points to FTAs," said Kirby Daley, an economic strategist with Newedge Group in Hong Kong. "In many cases it's a deal breaker."
Taiwan will persuade farmers to accept trade deals "in parallel" with seeking pacts with Southeast Asia or Japan, San said. Japan also has a massive rice grower lobby.
Taiwan's growers are receptive but expect a showdown.
"The government should talk to us and negotiate with us on what it plans to do," said Lee Bang-chin, who handles sales for the 6,000-member Yenchao Farmers Association in south Taiwan. "If we can agree, that's good, but if not forget it."
---