Private sector calls on governments for the EU/Mercosur trade agreement
MercoPress | Friday, October 8th 2010
Private sector calls on governments for the EU/Mercosur trade agreement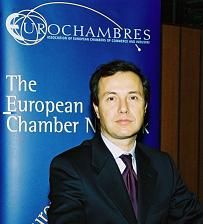 Chambers of Commerce from Europe, Brazil and Uruguay called on their governments to give a new thrust to negotiations for an ambitious cooperation and trade EU/Mercosur agreement.
The request was made public Friday ahead of the second round of negotiations begun last May in Buenos Aires and scheduled to continue in Brussels next week. The European chambers of commerce called for a diligent approach thus consolidating the EU position as the main trade partner and investor in Mercosur (Brazil, Argentina, Paraguay and Uruguay).
"If we don't reach an agreement China will overtake the EU and will be second only to the United States as the main export market for Latinamerica in the coming decade", said Arnaldo Abruzzini, Secretary General of the European association of Commerce and Industry chambers, Eurochambres.
Abruzzini said he was aware the agriculture chapter of the agreement was the main "difficulty" but pointed out that "there are always possibilities of finding creative mechanisms that avoid harming vulnerable sectors".
He mentioned as an example the safeguard clauses introduced to the recently signed free trade agreement by the EU with Korea.
Eurochambres and its Mercosur associates in Brazil and Uruguay urged the negotiators "to appeal to their best efforts to overcome difficulties and divergences" and recalled the importance of anticipating "specific instruments that guarantee and support the access of European small and medium companies to the Mercosur region".
Finally they underlined that the "proven resilience of Latin America to the current crisis is an excellent opportunity for European businesses".
The EU is currently Mercosur main trade partner equivalent to 20.7% of its total trade as well as the leading investor in the region totalling 165 billion Euros, which according to Eurochambres is greater than all the European investment in China, India and Russia.
"A trade agreement with Mercosur would involve a free zone with 750 million people and an overall annual turnover of 100 billion Euros annually".
The EU and Mercosur next Monday begin the second round of negotiations in Brussels with the target of a major association agreement that includes political dialogue, cooperation and trade.
Negotiations had been stalled for years until last May when following the EU-Latinamerica/Caribbean summit in Madrid it was agreed to resume them.
However on the EU side things are not that smooth. Several countries led by France, and with the support from farmers' unions, openly object the resumption of negotiations if they include agriculture, fearing Mercosur greater efficiency and competitiveness in that area.
Furthermore others including France, believe that negotiations should wait for the conclusion of the Doha Round trade liberalization agreement in the framework of the World Trade Organization, before reaching bilateral accords with major world farm producers and exporters such as Argentina and Brazil.
---