Progressive groups to hold anti-G20 forum, protests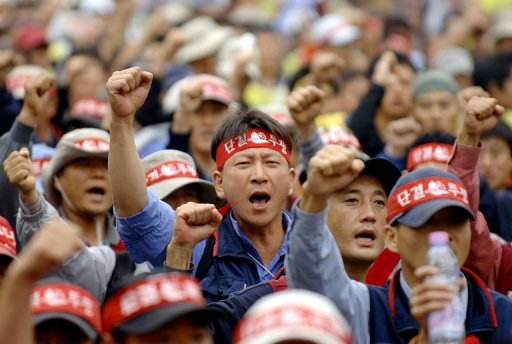 Korea Herald | 2010-09-13
Progressive groups to hold anti-G20 forum, protests
Korea's progressive activist groups are preparing massive anti-G20 rallies with international organizations, before and during the G20 summit slated for Nov. 11-12.
Forty-seven groups will launch an integrated organization Wednesday to jointly deal with issues related to the G20 and oppose its principles and goals, including the globalization of financial systems, group leaders said Monday.
They include the Korean Confederation of Trade Unions, the country's second largest umbrella labor group, and the People's Solidarity for Participatory Democracy, one of the country's major civic groups.
They have set Nov. 6-12 as their "joint action period," during which they plan to focus on publicizing problems with the major agenda items and issues that the global economic forum has been dealing with.
The progressive groups will hold the "People's Summit" from Nov. 8-10 to highlight problems with the agenda et by the G20 and put forward alternatives, group officials said.
The KCTU has separate plans to stage a variety of events jointly with international labor organizations.
On Nov. 9, the KCTU and labor unions from Brazil and South Africa will host a "Labor Assembly" to listen to voices of workers from around the world.
From Nov. 10-11, the International Trade Union Confederation will host a meeting of labor union leaders from the G20 nations to encourage leaders to pay more attention to labor and social issues.
The ITUC is the largest international labor organization, with 176 million members from 312 trade unions from 156 countries. It has held its leadership meeting at the host country of a G20 summit each year.
In related news, local labor and social activist groups will hold an international meeting on Nov. 8 to discuss the limits of free trade agreements.
By Song Sang-ho
---