Qatar's Al Jazeera files $150 million damages claim with Egypt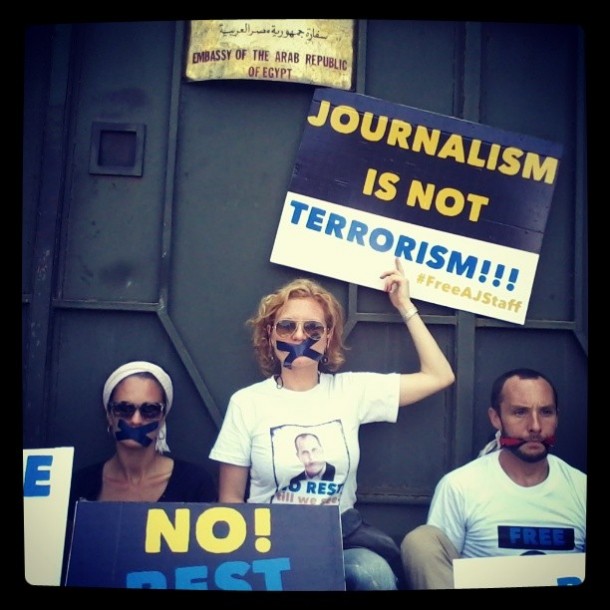 Reuters | Mon, 28 Apr 2014
Qatar's Al Jazeera files $150 million damages claim with Egypt
– Pan-Arab channel accused Cairo of "expropriation"
– Three Jazeera journalists on trial in Egypt, deny charges
– Jazeera's move likely to deepen Qatari-Egyptian tension
By Andrew Osborn
LONDON, April 28 (Reuters) — The Qatar-based satellite network Al Jazeera served Egypt with a $150 million compensation claim on Monday for what it said was damage to its business inflicted by Cairo's military rulers, a step likely to worsen Qatari-Egyptian relations.
In a move aimed at drawing attention to what Al Jazeera calls Egypt's unacceptable treatment of it and its journalists, a lawyer acting for the pan-Arab channel told Reuters he had handed a legal document detailing the claim to a representative of the Egyptian government.
Egypt had begun a "sustained campaign" against Al Jazeera and its journalists after the army toppled Islamist President Mohamed Mursi in July last year, said Cameron Doley, a lawyer at London law firm Carter-Ruck, which is handling the case.
"Al Jazeera invested substantial sums in Egypt," said Doley. "The effect of this recent campaign by the military government is that this investment has been expropriated. Egypt is bound by international law to pay Al Jazeera just and effective compensation."
Cairo had six months to settle the claim, filed in the context of a bilateral investment treaty, he said, or face an international tribunal. There was no immediate comment from the Egyptian authorities.
Qatar, a Gulf Arab monarchy that funds Al Jazeera, backs Mursi's deposed Muslim Brotherhood, which Cairo has declared a "terrorist" group. Qatari ties with Egypt have been strained since the army ousted Mursi after mass unrest against his rule.
Three Al Jazeera journalists are being tried in Egypt on charges of aiding members of a "terrorist organisation", in a case that human rights groups say shows the authorities are trampling on freedom of expression.
All three deny the charges and Al Jazeera has said the accusations are absurd. Egyptian officials have said the case is not linked to freedom of expression and that the journalists raised suspicions by operating without proper accreditation.
The trio - Peter Greste, an Australian, Mohamed Fahmy, a Canadian-Egyptian national, and Baher Mohamed, an Egyptian - were detained in Cairo on Dec. 29.
Earlier this year, an Egyptian prosecutor said Al Jazeera journalists had published lies harming the national interest and had supplied money, equipment and information to 16 Egyptians. The foreigners were also accused of using unlicensed broadcasting equipment.
Both state and private Egyptian media have fanned anti-Brotherhood sentiment, suggesting anyone associated with the veteran movement is a traitor and threat to national security.
Egyptians often ask journalists in the streets whether they work for Al Jazeera. Saying yes could mean a beating.
The Brotherhood renounced violence as a means of political change decades ago and says it remains committed to peaceful activism, denying any association with the surge in Islamist insurgent violence since Mursi's downfall.
The crackdown on dissent has raised questions about Egypt's democratic credentials three years after an uprising toppled veteran autocratic president Hosni Mubarak and raised hopes of greater freedoms. Mursi won power in a free election in 2012.
(Editing by Mark Heinrich)
---