RCEP members to finalise pact before year-end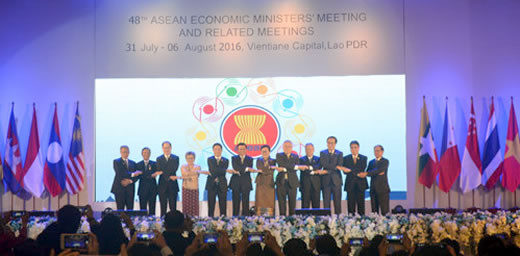 The Nation (Bangkok) | August 9, 2016
RCEP members to finalise pact before year-end
Petchanet Pratruangkrai
The 16 member states of the Regional Comprehensive Economic Partnership (RCEP) have agreed to finalise negotiations on the pact before the end of this year, while Asean will conduct a feasibility study for Asean-Eurasian free-trade talks.
After joining the Asean Economic Ministers' Meeting in Laos last week, Thai Commerce Minister Apiradi Tantraporn said Asean and six partner countries - China, South Korea, Japan, India, Australia and New Zealand - wanted RCEP to be finalised by the end of this year.
The RCEP committee meeting on August 12-19 will discuss the outstanding issues, including trade in goods and services, investment, and economic cooperation in all dimensions, she said.
The acceleration of the negotiations resulted from an exchange of views among the 16 RCEP countries, the United States and Russia on promoting economic growth and relieving the impacts from the United Kingdom's vote to leave the European Union.
Asean and the partner countries also supported talks in the World Trade Organisation and Group of 20 venues.
If the RCEP is accomplished, it will be the world's largest free-trade agreement, covering a population of 3.35 billion, or more than 50 per cent of the world total. The combined gross domestic product would be more than US$22.9 trillion, or 29 per cent of global GDP.
Export to the RCEP countries accounts for 55 per cent of Thailand's total export value.
As of 2014, total value of trade between Thailand and the other RCEP countries was $2.6 trillion, or 57 per cent of the total. Export from Thailand to RCEP countries was valued $1.27 trillion, or 56 per cent of the total, while import was $1.33 trillion, or 58 per cent of total import value.
During the meeting in Laos, the Asean ministers also agreed to conduct a feasibility study on an FTA between Asean and the Eurasian Economic Union (EEU), and discussed conducting free-trade talks with Canada after setting up the Asean-Canada Trade Policy Dialogue to tighten economic cooperation between the two sides.
So far, Vietnam is the only Asean country to have conducted free-trade talks with the EEU, while Singapore and Cambodia have also proposed negotiations. Indonesia, Malaysia and Thailand have shown interest in such talks as well.
Thailand has proposed that Russia use Asean as a centre for food security, while promoting trade growth between the two sides, as well as supporting the development of small and medium-sized enterprises.a
The five members of the EEU are Belarus, Kazakhstan, Russia, Armenia and Kyrgyzstan.
The Asean will also review free-trade talks with Australia and New Zealand, after an FTA with them has been in place for almost a decade. The aim is to finalise a revision of the pact within two years.
---