RCEP: What is at stake for India and its people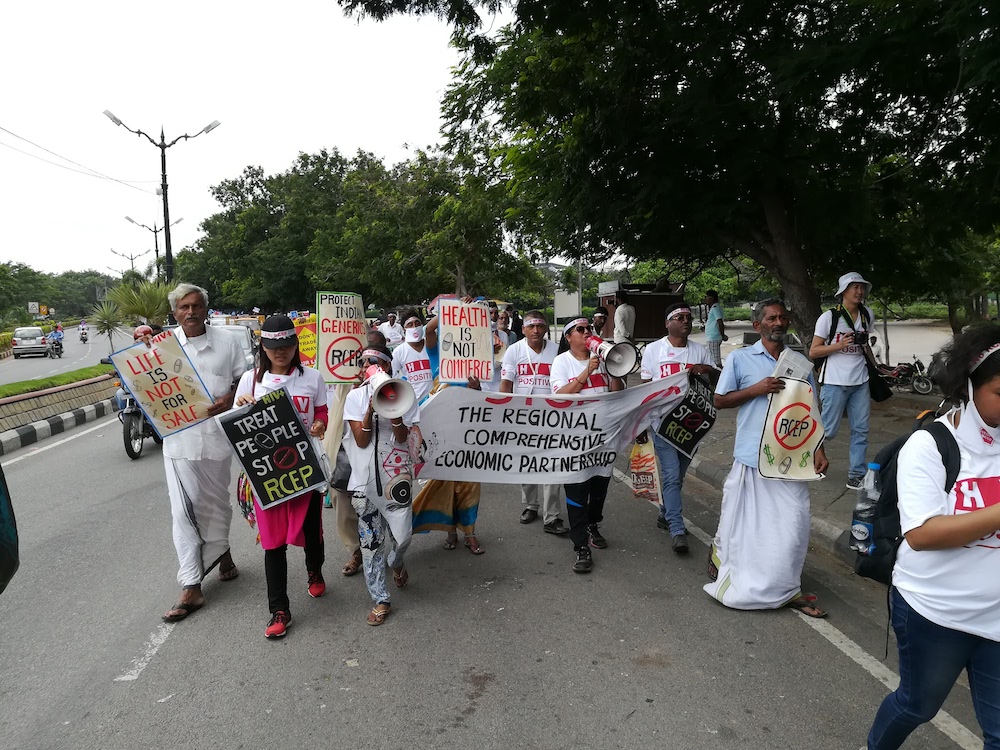 Forum For Trade Justice
RCEP: What is at stake for India and its people
PRESS RELEASE
16th October 2019 at IWPC, New Delhi
The Government of India is at the brink of signing its first major multilateral trade agreement after the World Trade Organisation (WTO), namely the Regional Comprehensive Economic Partnership (RCEP) with ASEAN+5 other countries in the Asia Pacific region.
India is a founding member of the WTO since 1 January 1995. After almost 25 years, the WTO is still to orient its trade rules to the needs and realities of developing countries. But RCEP creates a whole new venue, where 'WTO-plus' rules for trade and investment are being negotiated. This creates more challenges, particularly at a time when India is most vulnerable to the global economic slowdown. As per Biswajit Dhar of the Jawaharlal Nehru University, "major manufacturing sectors are facing serious headwinds, essentially due to sagging domestic demand. Acceding to RCEP at this juncture will accentuate the uncertainties for these sectors, and could result in loss of jobs and incomes, which the country can ill-afford".
The key sticking point for India in RCEP has been trade wth China, for which even an informal bilateral summit was held between the Chinese President and the Prime Minister of India. Ranja Sengupta of the Third World Network, makes the point that "tariff differential with China will be meaningless as China can use the rules of origin (ROO) which allow any product with some value creation in the RCEP region to enter Indian markets duty-free. China has already been circumventing ROO and will now find an easier route even for products not opened up to China under RCEP".
Another legitimate concern about RCEP is not just about trade, but its truly 'comprehensive' nature that creates new rules on investment as well. According to Kavaljit Singh of Madhyam, "the leaked RCEP draft investment text (September 2019) contains many controversial provisions which are TRIMS-plus and TPP-plus, and they go far beyond the scope of India's Model BIT text (2015) and recently concluded bilateral investment agreements with Brazil and Cambodia. Rather than moving forward, India is moving backward on its policy over investment agreements."
Parminder Jeet Singh of IT for Change, cautions that "accepting free global data flows as per RCEP demands is to give up all data policy space, and data sovereignty. And with it, any chance that India could really employ its data for India's development, and be a top digital country. We will have to become digitally completely dependent on one of the two digital super powers. No clever language around public policy exceptions in the RCEP text will mitigate this disastrous eventuality. Such public policy exemptions have never worked effectively, especially for developing counties."
Expressing concern on the process, Shalini Bhutani, legal researcher and policy analyst, reiterates that "negotiating for a trade deficit with a democratic deficit spells disaster on both fronts. The irony is that the draft chapter of RCEP on General Provisions and Exceptions makes it a legal obligation on member countries to publish in advance any such laws, regulations, procedures and administrative rulings of general application with respect to any matter covered by this Agreement that it proposes to adopt so that interested parties have reasonable opportunity to comment on the same. What is very worrying that the talks have gone so far in such detail sans any meaningful involvement with people, who are the real stakeholders and will face real consequences."
The agricultural sector becomes all the more vulnerable with RCEP opening the gates to imports. 15 million Indian dairy farmers, mostly women, are the backbone of largest dairy economy of the world, worth rupees 7 lakh crores per annum, almost 25% of India's total farm produce (worth rupees 28 lakh crores). In Indian dairy cooperatives, farmers have some control over production, processing as well as marketing. "The BJP government will destroy the whole agriculture sector by the stroke of a pen when it signs the RCEP deal. The drastic reduction in import duty and flooding of cheap agricultural produce will negatively impact farmgate prices in India. Indian farmers will loose everything if India signs RCEP", warns Yudhvir Singh, Coordinator, All India Coordination Committee of Farmers Movements.
Loon Gangte, South Asia's Regional Coordinator of the International Treatment Preparedness Coalition addresses the Central Government saying: "when you hold trade negotiations with other countries, always remember that more than one million people living with HIV are dependent on Indian generic antiretroviral medicine on a daily basis as a lifelong medication. Don't do anything that would literally stop our lifeline. Please do not trade away our lives."
Real lives and livelihoods are at stake. That is why people are saying 'No' to RCEP!
FORUM FOR TRADE JUSTICE
forumagainstftas@gmail.com | @ForumAgainstFTA | #NoRCEP
---