Regional ministers meet in Kampala over free trade area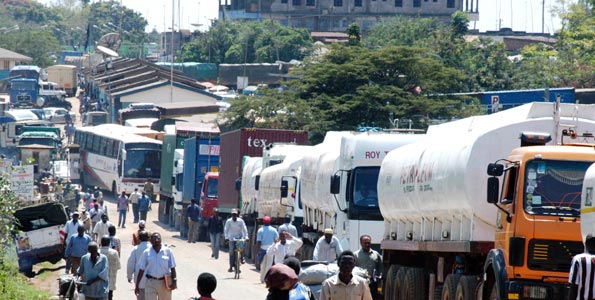 The New Times | 7 July 2017
Regional ministers meet in Kampala over free trade area
By JAMES KARUHANGA
Ministers from 26 African countries are meeting in Kampala, today, in another attempt to see through overdue negotiations on a larger free trade area covering three regional economic communities (RECs).
Ministers from the Common Market for Eastern and Southern Africa (COMESA), East African Community (EAC), and Southern Africa Development Community (SADC), are expected to settle issues that prevented the countries from ratifying the Tripartite Free Trade Area (TFTA) signed by African leaders on June 10, 2015, in Egypt.
"There is some progress now. Initially, there were delays as some SADC countries did not have a clear position on tariff reductions. They have now given their proposal on how things can work and I think it will work now," François Kanimba, the minister for trade, industry and EAC affairs, told The New Times yesterday.
The agreement intends to create a common market across half of the continent. It would be a critical step toward opening up opportunities for business and investment within the tripartite bloc.
But for benefits to actually be realised, it must first be ratified by at least 14 of the 26 member countries. To date, 18 countries signed while only one, Egypt, ratified the agreement.
When the agreement was initially signed in 2015, a one year timeline was agreed for ratification.
But that timeline elapsed last year and responsible ministers set a new timeline of April, which also passed without any headway.
Dr Francis Mangeni, the director of trade and customs in the 19-member COMESA bloc, is optimistic that the Kampala meeting will deliver.
The most important expected outcome, Mangeni said, is that three outstanding legal instruments – on rules of origin, trade remedies, and dispute settlement – will be adopted.
"This is what has been preventing some countries from signing and ratifying the tripartite agreement. We expect the tripartite agreement to be ratified and come into force quickly after this," Dr Mangeni said.
"The second expected outcome is that South Africa has said it will sign the Agreement at the ministerial meeting. This would bring the total number of countries that have signed to 19."
According to the COMESA official, this comprehensive framework for trade comes into force – after ratification – it will bring numerous gains. Among others, the FTA means that products coming from member countries will not pay duties.
How does this benefit the common man?

Dr Mangeni stresses that the importance of the tripartite FTA to the ordinary citizen is linked to the fact that the three blocs have a combined GDP of $1.3 trillion, and a market of nearly 720 million people.
This large market, he said, means that investment can be done at a much higher level.
"If you want to sell in large volumes, you need more people. The bigger the market, the larger the investment and, investment creates jobs for people and thus income generation. In addition, a tripartite free trade area helps our governments and people to work together and this is extremely important.
"When you have a framework that brings governments and people together on a regular basis to discuss issues such as infrastructure and industrialisation as well as security, transboundary diseases, terrorism and others, which all concern them, it is critical for socio-economic transformation. Whichever way you look at it, in the world today, we need to work together. Such a framework also promotes and peace and prosperity."
Sources say EAC and COMESA countries are at an advanced stage of ratification and opened up 100 percent, with all their products covered except prohibited or illegal products such as harmful drugs and arms.
The problem, sources indicated earlier, was with the so-called BLNS countries; Botswana, Lesotho, Namibia, South Africa and Swaziland, which belong to one of the world's oldest customs union – the Southern African Customs Union, and had wanted to open up only 60 to 85 per cent.
The five countries being within the SADC bloc, sources said, this created a complexity in tariff offers that the former were struggling with.
The Kampala meeting, it is hoped, will table solutions to the issues and conclude with a win-win way forward.
The tripartite vision is to improve socio-economic welfare of the region's citizens by promoting economic growth and creating a favourable environment for trade.
---