Reps to vet EPA with EU… lament textile industry collapse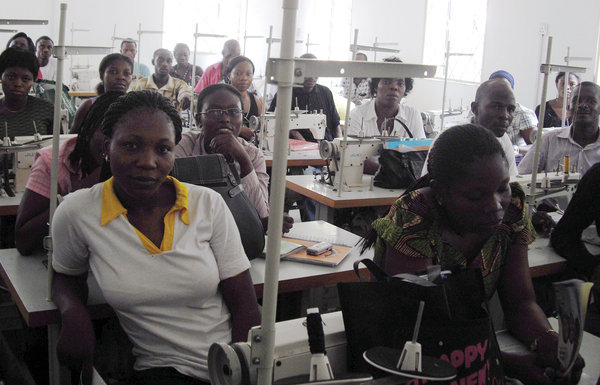 Business Day | 28 January 2016
Reps to vet EPA with EU… lament textile industry collapse
By KEHINDE AKINTOLA
House of Representatives on Wednesday resolved to investigate the nature of the Economic Partnership Agreement (EPA) between Nigeria and European Union (EU).The lawmakers during a debate on the motion titled: "Call for caution in the implementation of the EPA between EU and Nigeria," expressed regrets over the collapse of the textile industry due to unhealthy competition by foreign companies and smuggling of textile products through the borders.
Following the adoption of the motion, Speaker Yakubu Dogara referred the motion to the joint committee on commerce and industry for further legislative action.
In his lead debate, Segun Adekola called for the intervention of the House to thoroughly examine the terms and conditions of the proposed EPA with EU.
While expressing reservation on the recent push by the EU to expand its economic relations with Nigeria through the implementation of the EPA, the lawmaker noted that the policy had been resisted by various operators and stakeholders.
Adekola explained that based on the terms of agreement, the EU would offer 15 members of the Economic Community of West African States (ECOWAS) full access to its market and in return, members of ECOWAS would open up 75 percent of their markets with over 300 million consumers to Europe over a 20-year period.
"Nigeria has a weak manufacturing base occasion by infrastructural deficit and environmental factors, and thus is not on the same economic pedestal with any European countries to warrant such a reciprocal trade as envisaged in the trade agreement.
"The agreement would lead to stunting of the growth of industries in West Africa, with serious economic and employment consequences for Nigeria which controls 60 percent share of the regional market," he said.
In his contribution, Adams Sulieman, who kicked against the implementation of the EPA, observed that the initial trade pact signed led to the collapse of the textile industry in the country and loss of millions of jobs.
According to Sulieman, the textile industry employed labour of about 2 million people, and with the agreement, Nigeria has been opened up to various kinds of smuggling activities.
The perpetrators of the evil in the past are using this means to come back into the country, he said, insisting that, "we must resist it."
On his part, Mojeed Alabi argued that Nigeria would be at disadvantage while the EU nations would take advantage of its vast population.
"What is Nigeria going to gain from the EPA? Rather, other countries want to partner Nigeria because of our population. What we can do is rather than concentrating on industry, we should call our committees to look into it," Alabi said.
---