S.Africa sugar producers hopeful of EU trade deal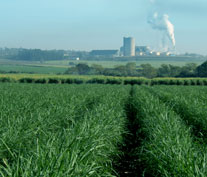 Reuters | Thu Oct 15, 2009
S.Africa sugar producers hopeful of EU trade deal
By Muchena Zigomo
DURBAN, South Africa (Reuters) - South African sugar producers are hopeful the country will conclude an Economic Partnership Agreement with the European Union that would allow them to export sugar into the EU, industry officials said.
The EU, South Africa's largest trading partner, unveiled a new trade regime from October 1 that allowed the world's poorest countries quota and tariff-free access into that market.
However, South Africa, one of the world's top 10 exporters of the sweetener, fails to qualify as a least developed country and will not benefit from the new regulations.
Johann van der Merwe, external affairs director for the South African Sugar Association, said on Thursday the country would try to gain access into the EU sugar market via an Economic Partnership Agreement (EPA).
"Negotiations are still ongoing but we are hopeful that an agreement will be reached over the EPAs which would allow sugar producers to benefit," van der Merwe told a briefing.
"It would obviously boost earnings for our producers, but at the moment we just have to be patient," he said.
The 27-nation EU has concluded EPAs with several southern African countries, including top diamond producer Botswana, but South Africa, Namibia and Angola have declined to sign the agreement due to concerns over the text.
South Africa has been critical of an EPA process it feels may undermine trade integration in southern Africa, especially if each country in the region has different trade deals with the European bloc.
The government in Africa's biggest economy has also accused the EU of being too focused on its own commercial interests, undermining efforts to forge a new, fairer trade pact with South Africa.
While talks over the EPA continue, South African sugar producers hope to benefit from the quota and duty-free EU access through their interests in other countries within the region such as Zambia, Mozambique, Swaziland, Malawi and Tanzania.
Durban-based Illovo Sugar, Africa's biggest producer, said in August it plans to raise output by 50 percent to nearly 3 million tonnes in the next five years to cash in on the new tariff-free EU access.
Illovo, 51 percent owned by Associated British Foods (ABF), announced a rights issue in July to raise up to 3 billion rand to finance growth, which will see it expand operations in Zambia, Mozambique, Swaziland, Malawi and Tanzania.
---