Senate approves PH deal with European Free Trade Association states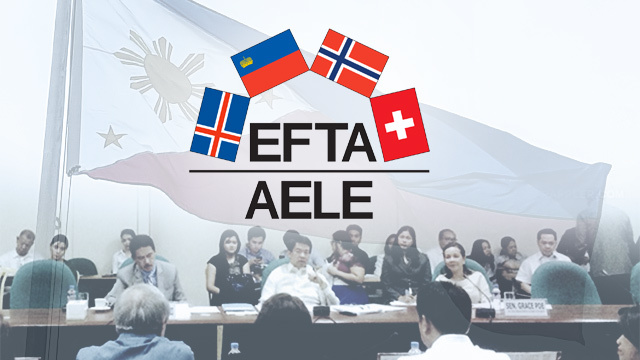 Rapper | 5 March 2018
Senate approves PH deal with European Free Trade Association states
by Camille Elemia
Manila, Philippines: Voting 19-0, the Senate on Monday, March 5, concurred in the ratification of the free trade agreement (FTA) between the Philippines and the European Free Trade Association (EFTA) states, composed of Iceland, Liechtenstein, Norway, and Switzerland.
Senate foreign relations committee chair Loren Legarda, who sponsored Senate Resolution 64, said the agreement is part of the Philippine's strategy to "gain a stronger foothold in the European market."
"Entering into an FTA with EFTA is part of the country's strategy to gain a stronger foothold in the European market. Considering that EFTA requires the same standards as the European Union, this will allow Philippine exporters to Europe to gain from economies of scale through improved market access in both EU and EFTA," Legarda said.
The agreement covers trade in goods, services, investment, government procurement, intellectual property rights, competition and sustainable development.
Upon entry into force, EFTA member states will accord duty-free market access to all industrial and fishery products from the Philippines.
Under the deal, the Philippines gained significant concessions on agricultural products such as desiccated coconut, prepared or preserved pineapples, raw cane sugar and tropical fruit wine. This also includes those that are currently being exported by the Philippines to the European Union, which can alternately be exported to EFTA.
On the other hand, the Philippines will provide all EFTA member states duty-free market access on most industrial and fishery products.
The Philippines will also grant the EFTA states market access on a number of goods, such as temperate fruits, mineral and aerated waters, food preparations, chocolate, cheese and wine, among others.
The agreement was ratified by President Rodrigo Duterte on December 8, 2017. Then-Secretary Adrian Cristobal Jr of the Department of Trade and Industry signed the agreement in Bern, Switzerland, on April 28, 2016.
---