Signing of treaty on free trade zone between Ukraine, EU will create problems for Ukraine, Russia - Putin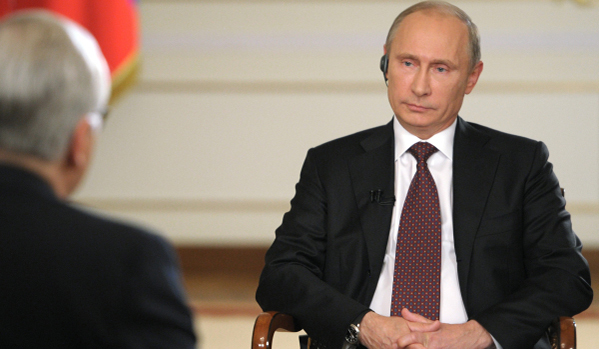 Voice of Russia | 4 Sep 2013
Signing of treaty on free trade zone between Ukraine, EU will create problems for Ukraine, Russia - Putin
Russian President Vladimir Putin said the signing of a treaty on a free trade zone between Ukraine and the European Union will cause problems for Russia and Ukraine.
"As to the integration processes, we should respect Ukraine here. If Ukraine believes it needs to sign, for example, a treaty on free trade with the EU, it means that's how it should be.
However, we see some problems for us and them here," Putin said in an interview with
Russia's Channel One and the Associated Press.
If such a treaty is signed, Ukraine will assume additional obligations to reduce its custom barriers, he said.
"When they eliminate the duties, foreign goods appear on the Ukrainian market, but they have their own enterprises that are working, what will they do with their goods? We are concerned that they will go to our market, to the market of the Customs Union of Russia, Kazakhstan, and Belarus. But we didn't agree on that, to do so will create problems for our economy," Putin said.
Putin also recalled that Ukraine will introduce European technical regulation standards after signing a treaty with the EU.
"They [the standards] are good, but they are very tough. It will take time and billions in investments for these enterprises to begin working like that, according to these regulations. I doubt that can be done overnight. While they are doing that, many enterprises will go bankrupt or will send their goods to our market. We will have to put up barriers, that's the problem," Putin said.
Putin reiterated that Russia and Ukraine have deep industrial cooperation, which may be badly affected. Putin reminded that Russia is also conducting talks with the EU. He pointed out that the Europeans are become very tough when they sit down at the negotiation table.
"For this reason, it seemed to me that if we determined some principles together in a unified economic space, it would be much more difficult for the Europeans to negotiate with us in the format of Russia-Ukraine-Kazakhstan-Belarus than with each country alone, especially in relations directly with only Ukraine," Putin said.
Putin also said Russia will respect any choice made by the Ukrainian administration and will continue working with Ukraine.
"However, the question is how we will work, what we will have to do to defend our own interests. We'll see," Putin said.
---