Six years after JPEPA: PHL the world's toxic waste dump site?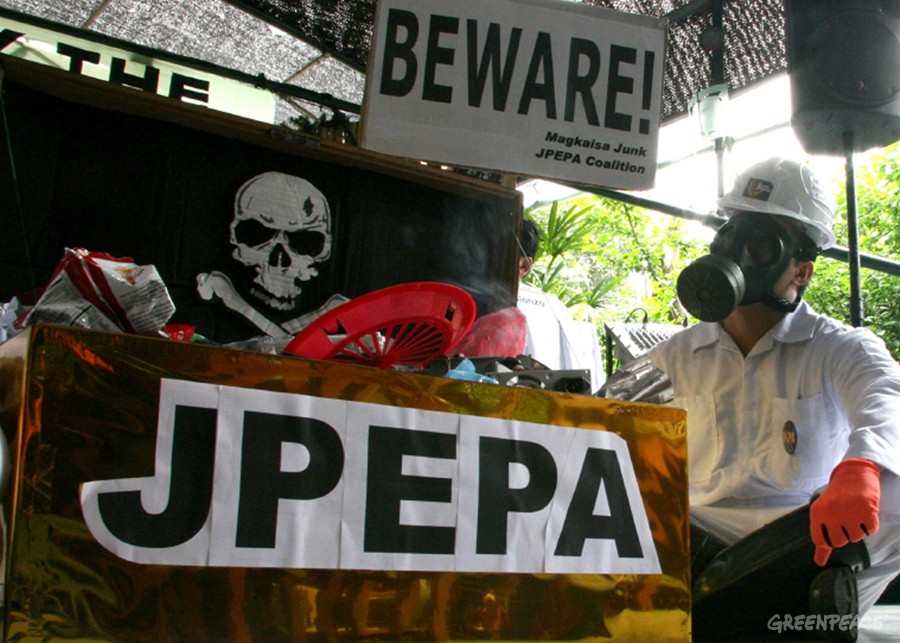 GMA News | October 8, 2014
Six years after JPEPA: PHL the world's toxic waste dump site?
An environmental group fears that the Philippines may become the world's dump site for toxic waste.
BAN Toxics (BT), an environmental justice group, said in an emailed statement its concerns come six years after the "controversial" Japan-Philippines Economic Partnership Agreement (JPEPA) was signed. JPEPA is comprehensive agreement signed in 2006 to liberalize trade in goods and services between Japan and the Philippines.
The group described JPEPA as "infamously known for its preferential treatment of toxic wastes, hazardous chemicals, and nuclear wastes."
"JPEPA was a new age trade agreement that cemented the opportunity for Japan to pick and choose which poor country it can dump its toxic wastes on in the name of trade," BT executive director Atty. Richard Gutierrez claimed in the statement.
Earlier this year, the Bureau of Customs (BOC) seized 50 container vans containing waste materials from Canada, with consignee Chronic Plastics Inc. declaring the shipment as assorted scrap materials for recycling.
It was later revealed, after a BOC inspection, that the shipment contains hazardous materials, including hospital waste, as well as used adult diapers and sanitary napkins, according to the BT statement.
The bureau planned to dispose the shipment on Philippine soil, sparking negative reactions from interest groups that demanded the cargo be shipped back to Canada.
"Six years down, we are now seeing the fruits of JPEPA. The haplessness of the DENR and the outright condoning of the Bureau of Customs to toxic waste dumping here in our country, unfortunately sends a very clear signal to other countries that we welcome their toxic wastes," Gutierrez claimed.
The Basel Ban Amendment, an amendment to the Basel Convention, should be approved to prohibit the movement of hazardous wastes from developed countries to poorer countries like the Philippines for disposal and recycling, BT said.
"If the Philippine government is truly serious about protecting our constitutional right to health and to a balanced and healthful ecology, clearly it must close this loophole by ratifying the Basel Ban Amendment," BT vice president Atty. Tanya Lat said.
Gutierrez urged President Benigno Aquino III to "exercise prerogative and do the right thing – sign off on the Basel Ban Amendment and close this chapter on JPEPA and toxic waste trade." – Raffy Cabristante/VS, GMA News
---