Taipei mulls renewing Jakarta deal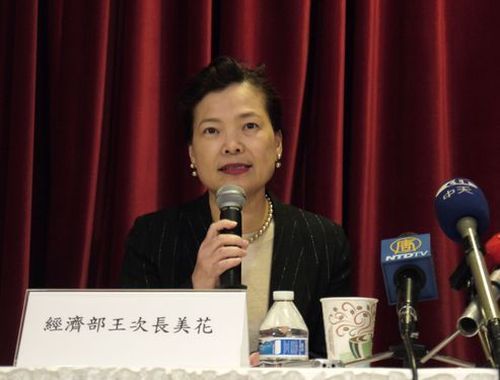 Taipei Times | 30 March 2018
Taipei mulls renewing Jakarta deal
By Kuo Chia-erh
The government is assessing the feasibility of renewing an economic cooperation agreement with Indonesia to foster bilateral trade and investment, as part of efforts to push the New Southbound Policy, the Ministry of Economic Affairs said yesterday.
A feasibility assessment, which began at the end of last year, is expected to be completed later this year, Vice Minister of Economic Affairs Wang Mei-hua (王美花) said before the opening ceremony of the Taiwan Expo in Jakarta.
"An assessment was finished in 2012, but things have changed [over the past few years]. We have to take into account the present situation," Wang told reporters.
The government plans to renew a bilateral investment agreement with Indonesia aimed at protecting investment in each other's territory.
Taiwanese companies last year invested a total of US$397 million in Indonesia, a 166 percent jump from US$149 million in 2016, government data showed.
The ministry said it is to begin studying the details of a renewal after it acquires an English-language bilateral investment agreement template drafted by the Indonesian government, but did not provide a timetable.
Renewal of the agreement with Indonesia would mark another step in Taiwan's strengthening of economic ties with Southeast Asian nations, after a bilateral investment agreement with the Philippines was renewed in December last year.
The Taiwan External Trade Development Council (TAITRA, 外貿協會) yesterday opened the Taiwan Expo in Jakarta, with the aim of helping Taiwanese firms explore "southbound" opportunities in the world's fourth-largest country by population.
The government-backed trade promotion agency last year launched the Taiwan Expo project, which targets markets including Indonesia, Vietnam and Malaysia.
"We held our first-ever Taiwan Expo in Southeast Asia here [Jakarta] last year and that was a big success," TAITRA chairman James Huang (黃志芳) said, adding that the matchmaking event generated US$49.25 million in orders.
For this year's exhibition, TAITRA invited 230 Taiwanese companies from 10 industries, including machinery, home appliances, cosmetics and food and beverage.
TAITRA has also set up new pavilions for digital commerce and bubble tea, in a bid to expand Taiwan's presence in Indonesian markets.
Taiwan, whose e-commerce market reached US$34.2 billion in sales last year, is likely to duplicate its success in Indonesia, TAITRA said.
The business-to-business Taiwan Expo runs until tomorrow at the Jakarta Convention Center, showcasing more than 4,500 products and services provided by Taiwanese firms.
The three-day event is expected to attract more visitors than last year's 18,188 people, TAITRA said.
---