Taiwan, Beijing to resume free-trade pact talks after long delay due to fierce protests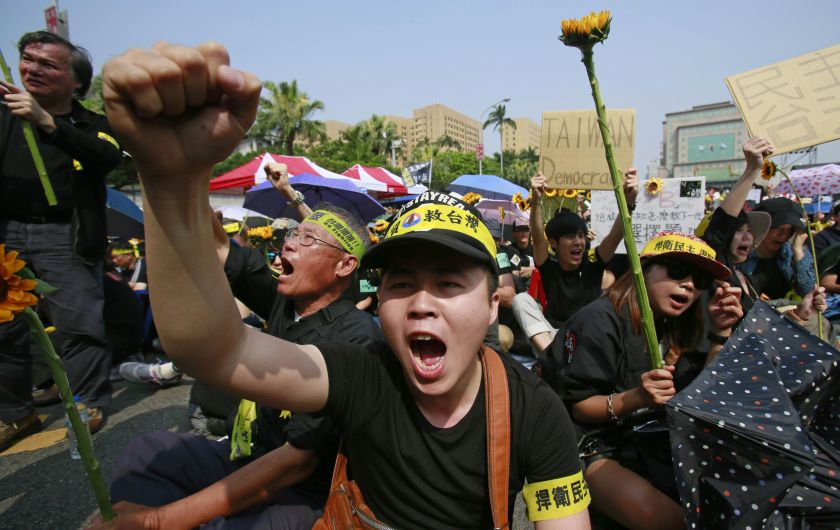 AFP | 07 September, 2014
Taiwan, Beijing to resume free-trade pact talks after long delay due to fierce protests
Taiwan and Beijing will this week resume talks on a goods free-trade agreement after negotiations were delayed due to vocal opposition by locals suspicious of closer ties with Beijing, officials said on Sunday.
The three-day talks would reopen on Wednesday after being delayed for about five months, including massive protests in Taipei and a weeks-long blockade of parliament by students, but an economics ministry official reached by AFP would not give details.
The South China Morning Post reported last week that the mainland's top negotiator with Taiwan said the "ball is in Taiwan's court" regarding the signing of a bilateral agreement on trade in goods, the Central News Agency reported.
Chen Deming, head of the mainland's Association for Relations Across the Taiwan Strait, said at the time it could be "difficult" to finalise the pact before Beijing and Seoul signed a free-trade agreement. Chen met his counterpart Lin Join-sane in Hangzhou last week.
Taiwan's economic affairs minister Woody Duh has said flat panels, petrochemicals, machine tools and cars will be on top of Taiwan's agenda.
But hopes have faded of signing the agreement before the end of this year following anti-mainland rallies earlier this year.
Ties between Taipei and Beijing have improved markedly since 2008 after Ma Ying-jeou of Taiwan's Beijing-friendly Kuomintang party came to power dedicated to strengthening trade and tourism links. He was re-elected in 2012.
In June 2010 they signed the Economic Cooperation Framework Agreement, a pact widely seen as the boldest step yet towards reconciliation following their split in 1949 at the end of a civil war.
The goods free-trade agreement is a follow-up to the 2010 deal.
But many locals are wary of the fast-warming ties, citing the mainland's refusal to renounce its use of force against Taiwan should it declare formal independence.
A planned pact to free up trade in services with the mainland sparked an unprecedented occupation of Taiwan's parliament and mass street protests in March and April.
Opponents have accused the government of trading Taiwan's interests to Beijing in exchange for marginal economic benefits – allegations denied by the authorities.
China's top official in charge of Taiwan affairs Zhang Zhijun in June paid a landmark four-day visit to the island but it was marred by angry protests which forced him to scrap some engagements.
---