Taiwan seeks FTA-like bilateral agreement with India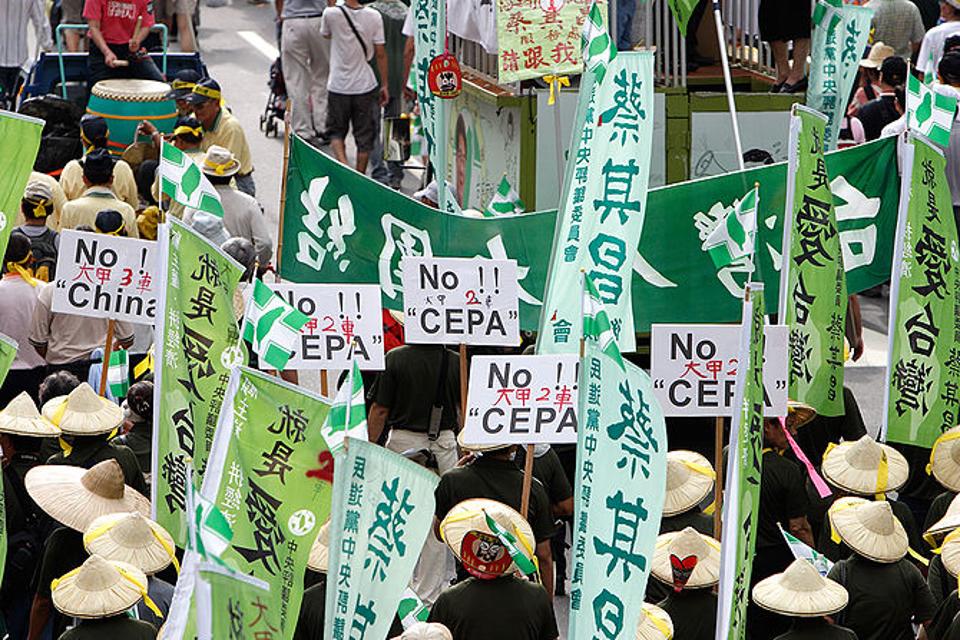 Business Standard | 3 March 2017
Taiwan seeks FTA-like bilateral agreement with India
(IANS) Taiwan is seeking a Free Trade Agreement (FTA)-like bilateral agreement with India to boost trade and investments even as its companies are looking to relocate some of their manufacturing facilities from mainland China to India and Southeast Asia.
"What we are looking for with India is an FTA-like agreement," Chern-Chyi Chen, Deputy Director General of the Bureau of Foreign Trade in the Taiwanese Ministry of Economic Affairs, said in an interaction here with a group of visiting journalists.
"The work for such an agreement started in 2012," he stated.
India and Taiwan do not have formal diplomatic relations but both have representative offices in either country.
However, under a new foreign policy, dubbed the New Southbound Policy, adopted by Taiwanese President Tsai Ing-wen's government, the self-ruled east Asian island nation is striving to broaden exchanges and cooperation with India and five South Asian nations, the 10 member-states of the Association of Southeast Asian Nations (Asean), and Australia and New Zealand in areas such as commerce, culture and technology.
This will mean lesser dependence on mainland China for Taiwan's economic development. Taiwan is the world's 22nd-largest economy and was dubbed one of the four Asian tigers in the late 20th century, the others being Hong Kong, Singapore and South Korea.
With the new foreign policy in place, Chen said that his "government is active and we want to move fast".
Asked if the New Southbound Policy would come in conflict with China's One Belt One Road (OBOR) policy, he stated : "I see this (OBOR) as very fundamentally different from our New Southbound Policy. We are not competing with China but what we are doing is integrating with the Asean countries and India more."
Stating that Taiwan was among the top four investors in China, he said that "we need to diversify our investments" but added that "we are not going to give up our market in mainland China".
Chen said that trade and investment cooperation, resources sharing, regional linkages and people-to-people exchanges were four important pillars of the New Southbound Policy.
"Ties between most of these countries and Taiwan are complementary," he said.
There are over 90 Taiwanese companies in India and over 50 per cent of them are in the information and communication technology (ICT) sector, he said.
"In terms of industrial development cooperation with India, we are in the stage of stock-taking maybe in sectors like food processing and chemicals," Chen said.
Kristy Hsu, Director of the Taiwan Asean Studies Centre in the Chung Hua Institution for Economic Research, said that Taiwanese companies were already responding to Prime Minister Narendra Modi's call to Make in India.
"Companies like Foxconn and Wistron will make iPhones in India in the not too distant future," she stated.
Hsu cited figures of the World Investment Report according to which FDI outflows from Taiwan rose significantly by 16 per cent to $15 billion in 2015.
"Companies are gradually relocating manufacturing facilities from China to Southeast Asia and India to respond to the establishment of the Asean Economic Community (AEC) and Asean+6 (RCEP)," she said.
The Regional Comprehensive Economic Partnership (RCEP) is a mega-regional economic agreement being negotiated by the 10 members-states of the Asean and and their six FTA partners — Australia, China, India, Japan, New Zealand and South Korea.
According to Kevin Lin, Deputy Director General of the Department of International Information Services in Taiwan's Ministry of Foreign Affairs, Taiwan wants to be a part of RCEP.
"We have many challenges. We will have to talk with individual countries and want win-win deals," he said.
Lin also said that Taiwan would like to join the China-initiated Asian Infrastructure Investment Bank (AIIB) too, "but it depends on what conditions we are allowed to join".
---