Teaching leaders oppose Peru-US FTA
Teaching Leaders Oppose Peru-US FTA
Lima, Nov 8 2007 (Prensa Latina) — Peru-US Free Trade Agreement, ratified by the US House of Representatives, is a mechanism of subjugation, the leader of Peruvian teaching Luis Munoz affirmed Thursday.
The Secretary General of the Unitary Union of Workers of Education SUTEP considered that the approval is in opposition to Peruvian interests.
"It's a mechanism of subjugation, of dominion, of annexation and of greater poverty for the Peruvians, and with consequences we are going to see in years", he warned.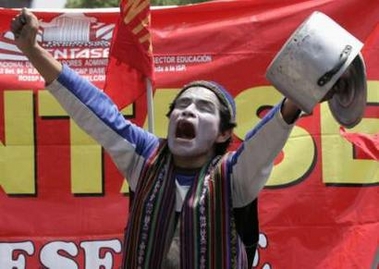 He said that the governmental managements to ratify the treaty confirm the policy of the executive, of auction of the national patrimony.
According to Munoz, PERU-US FTA will only favor the foreign investors and a reduced group of exporters of Peru.
Agriculture Minister Ismael Benavides assured that the government will have ready in six months the compensations for the farmers affected by FTA
He noticed that Peru-US FTA will allow the entrance of subsidized American merchandise that will compete with advantage with the local producers of wheat, corn, rice, sugar, cotton, milky, meat, oily, barley and potato.
---