Thai rice gene patent 'sends wrong signal'
Bangkok Post | 3 July 2009
Thai rice gene patent 'sends wrong signal'
Overseas firms could claim Thai resources
By: APINYA WIPATAYOTIN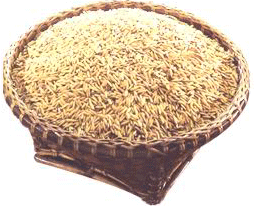 The recent patenting of a Thai rice gene will pave the way for overseas firms to obtain copyrights of Thai biological and genetic resources, intellectual property rights experts and farmer advocates warn.
The National Science and Technology Development Agency (NSTDA) in January last year obtained the US patent on genes that generate aroma in the world-famous jasmine, or Hom Mali rice.
Last week the agency and a team of scientists, who cracked the code of jasmine rice genes responsible for the rice's fragrance, reported to His Majesty the King they had obtained the patent.
Legal experts and farmers, however, say obtaining patent registration might be a double-edged sword.
While it can prevent non-patent holders making use of the newly-discovered genes during the 20-year patenting period, it could also put Thai rice farmers at a disadvantage in the longer term.
In the past, Thailand has opposed the patenting of living organisms.
The move to patent rice genes would send the wrong signal to our trade partners that Thailand has changed its position to support patent registration of living things, said Buntoon Srethasirote, from FTAWatch, a network of academics and activists monitoring free trade agreements.
He suspected the move was influenced by the EU and US, which demand Thailand endorse the registration of living organisms and genetic resources in free-trade deals.
Somchai Ratanachueskul, a law lecturer from the Thai Chamber of Commerce University, said the patenting of Hom Mali rice genes could lead to massive patenting of biological and genetic resources in the country by biotechnology and agricultural giants.
If Thai scientists patent rice genes, foreigners could apply for patents of other genes and living organisms too, Mr Somchai said.
"If these companies are granted a patent on Thai biological resources, Thais will have to pay the patent holders if we want to use our own resources," he said.
Withoon Lianchamroon, director of Biothai, a non-profit organisation on farmer rights protection, said Hom Mali fragrant rice would no longer be a rice species unique to Thailand.
After the protection period expires in the next 20 years, anybody could use the genetic engineering technology to put aromatic genes in any rice variety to make it aromatic, he said.
"In the future, scientists will develop rice varieties with a similar fragrance to Thai Hom Mali rice, which will deal a big blow to Thai farmers."
Sakarindr Bhumiratana, the NSTDA director, yesterday defended the patenting of rice genes, saying it is the best way to protect Thai rice varieties."If we don't do it, other countries might obtain the patent on rice, which will damage Thai farmers and rice industry. It will be even worse than should we not patent it," Mr Sakarindr said.
---