Thai seafood products could be banned, warns MEP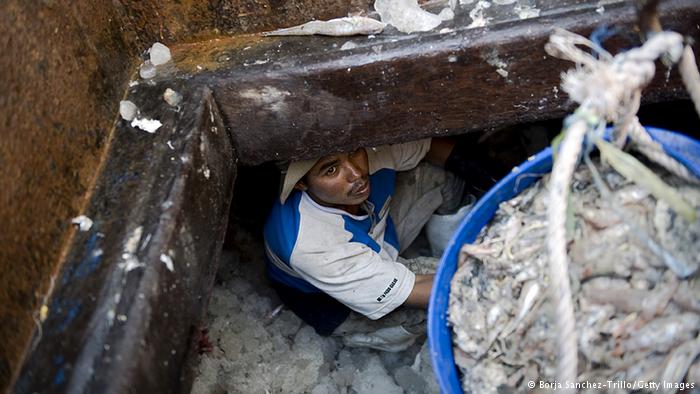 EurActiv | 23 Jul 2015
Thai seafood products could be banned, warns MEP
by Georgi Gotev
A prominent lawmaker from the European Parliament's Committee on Fisheries told EurActiv he would support giving a "red card" to Thailand, meaning banning the import of its fisheries products, if illegal fishing isn't curbed, and if the practice of using slave labour is not abandoned.
Gabriel Mato (EPP, Spain) said that under the EU IUU (Illegal, unreported and unregulated fishing) Regulation, authorities in the member states could refuse imports of fish products from countries identified by the EU as non-cooperating countries in the fight against illegal fishing.
Thailand was issued a "yellow card" back in April, due to its inadequate fisheries legal framework to fight illegal fishing and poor monitoring, control and traceability systems. According to procedure, in October, the Commission could wave the "yellow card", maintain it, or issue a "red card", effectively banning imports of fisheries products from Thailand to the EU market.
In recent weeks, testimony from survivors, human rights groups, as well as articles, have exposed appalling practices in Thailand's export-oriented seafood business. These include slave labour, and the exploitation of thousands of stateless Rohingya boat people.
Hailing from Burma, Rohingya Muslims are subject to intense discrimination, and are leaving the country in growing numbers, for Thailand, which has a large Islamic community, as well as Malaysia, which is predominantly Muslim.
"I fully support EU action undertaken up to now in this context, and I will support a "red card", if the situation does not improve," said Mato, who has been rapporteur on the EU-Thailand free trade agreement (FTA).
"Apparently, it is not only a question of slave migrant labour in Thailand's fisheries sector, which, by itself, could be enough to grant a "yellow card" to a country," said Mato, who also referred to many cases of Thai vessels being seized by neighbouring coastal states, and their captains accused of fishing illegally.
Red cards work, Mato said, adding that a similar situation with the Philippines led the country to improve its fisheries governance.
Last month, the Parliament submitted a question for written answer by the Commission, requesting that IUU fishing and labour slavery become a priority in diplomatic and trade relations with Thailand.
A Commission source told EurActiv that when the EU executive issued the "yellow card", it reproached Thailand for the following;
– Weak fisheries legal framework. Following the last EU mission in 2014, Thailand rapidly adopted a revised fisheries act to replace the 1947 act, but the revised text was inadequate in both content and scope and does not address the complexities of fisheries and processing industries in Thailand;
– The legal framework does not target serious infringements with deterrent sanctions depriving offenders of the economic benefits derived from the illicit activity and, therefore, it does not dissuade IUU fishing.
– Monitoring, control and surveillance systems are poor. Satellite Vessel Monitoring Systems are equipped on less than 100 out of 45.000 fishing vessels (of which more than 7.000 commercial vessels) and thousands of vessels are thought to still be unregistered.
– Traceability systems are failing to ensure fishery products exported to the EU are compliant with the requirements of IUU Regulation. This is in part due to the weak cooperation between the different Thai administrations dealing with control at ports.
Thai Defense Minister Prawit Wongsuwan was quoted as stating last Friday that the EU had sent a letter explaining that Bangkok's actions were still not correct, both in terms of administration and legislation. He recognised that 3,000 fishing boats nationwide were still unregistered.
The Commission source confirmed that dialogue between the Thai authorities and the Commission remains ongoing. EurActiv was told however that the "cards" system under IUU Regulation were treated like the infringement procedures, meaning that the EU executive would not comment on the exchange of information until a decision is taken.
The human rights issues are also on the EU's radar, Maja Kocijancic, spokesperson to EU foreign affairs chief Federica Mogherini, told EurActiv.
"Labour issues in the Thai fishing sector already are and will remain a priority matter in relations with Thailand," she said.
Kocijancic explained that labour issues in the Thai fishing sector were addressed systematically with the authorities in Bangkok, including with the Ministries of Foreign Affairs, labour and Agriculture (Department of Fisheries) and the Ministry of Commerce. The problems were discussed at EU level with the relevant international organisations, in particular the International Labour Organisation (ILO), as well as with specialised NGOs.
"The authorities have taken some concrete steps to address the issue of forced labour, for example, the recent arrests of two suspected brokers of forced labour for fishing vessels. The situation, however, calls for additional measures and efforts to combat human trafficking," Kocijancic said.
In addition, Mogherini's spokesperson explained that the Commission and the European External Action Service were working on targeted interventions to assist Thailand to deal with key labour shortcomings in the fishing sector, in compliance with the core labour standards, in particular, regarding child labour and forced labour.
Working conditions, especially for migrant workers, are also addressed.
---