Thailand can be 'gateway for Korea to ASEAN'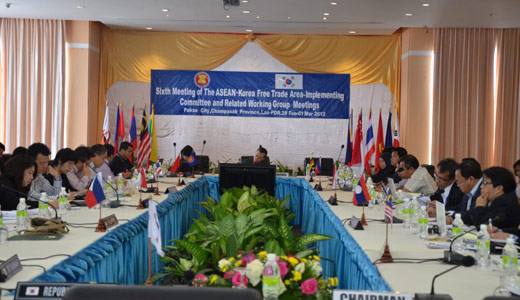 Korea Times | 13 February 2017

Thailand can be 'gateway for Korea to ASEAN'
By Kim Jae-kyoung
SINGAPORE ― ASEAN or the Association of Southeast Asian Nations will be one of the most promising markets in the coming decade on the back of robust economic growth and huge development opportunities.
Following the establishment of the ASEAN Economic Community (AEC) a year ago, the competition is heating up to get the upper hand in the 10-member bloc ― Brunei, Cambodia, Indonesia, Malaysia, Myanmar, the Philippines, Singapore, Laos, Thailand and Vietnam.
Japan has already been a massive player in the region and China is clearly ramping up efforts to build relationships there. More nations from Europe and other regions are expected to join as they are looking for new partners in the era of Donald Trump's protectionism.
Thai Prime Minister Prayut Chan-o-cha said that bolstering strategic cooperation with Thailand will pave the way for South Korea to make inroads into ASEAN markets, particularly the four underdeveloped countries, Cambodia, Laos, Myanmar and Vietnam (CLMV).
"I hope that you will use Thailand as your gateway to ASEAN," he said in a recent interview. "Most importantly, I do hope that you will see Thailand as your vital partner to serve vibrant CLMV markets."
"Thailand's geographical location with most of its borders connected to neighboring countries as well as strong economic fundamentals and political stability could serve as a dynamic gateway for trade between ASEAN nations and CLMV countries and a hub for the global value chain."
He also said that Korea can capitalize on Thailand's geographical advantage to reach untapped large markets in the northeast of India and in the south of China by land through Thailand
The military general-turned-prime minister said that South Korea, as ASEAN's fifth largest trade partner, can play an important role in economic integration of ASEAN by sharing its knowledge and experience in economic developments.
"Korea could play the role of an in-kind contributor for ASEAN economic integration by enhancing collaboration in areas of mutual interest and complementary advantages," he said.
He believes that the two sides can seek cooperation in areas such as the information and communications technology, electronics, automobile, shipbuilding and human resource development through quality education, upgrading of skills and capabilities and training.
"Korea's experience of innovation-led rapid growth will provide extensive knowledge and further deepen ASEAN and Korea friendship and cooperation," he said.
Moreover, he stressed that the free trade agreement (FTA) is one of the important driving factors for the development of bilateral economic relations.
"In this connection, Thailand will continue to work constructively with Korea on further liberalization of goods under the ASEAN-Korea FTA as well as the conclusion of Regional Comprehensive Economic Partnership (RCEP) Agreement in the near future," he said.
The following is an excerpt from the interview.
Q: The ASEAN Economic Community (AEC) made its debut at the end of 2015. What are the implications of the AEC launch for Thailand?

A: The AEC is in fact a continuing process, with a number of economic developments throughout different periods. Back in the year 1992, the ASEAN Free Trade Area (AFTA) was initiated by Thailand with the aim to reduce and/or eliminate import tariffs among ASEAN member states, to lower trade barriers, as well as to facilitate trade and investment. Therefore, ASEAN economic integration has taken place over a few decades.
Apart from the reduction and elimination of import tariffs, ASEAN has implemented over 500 AEC Blueprint measures in order to establish the AEC as a single market with a free flow of goods, capital and skilled labor across borders in ASEAN countries.
The 10-member bloc pursues progressive liberalization of trade in services and cooperation in creating an economic environment that supports business operations and small- and medium-sized enterprises' (SMEs) capacity with access to finance, innovations, and technology.
With regard to changes in the daily life of people, consumers have been provided with a greater variety of choices of products and various qualified services with better prices. Market competition will be enhanced due to imports of products from various sources. In addition, consumers will be more protected by ASEAN products and services in compliance with ASEAN cooperation on consumer protection.
Q: What do you think Thailand's role is in the integration process following the launch of the AEC?

A: Although the establishment of the AEC has officially been announced, regional economic integration among ASEAN member states remains an on-going process.
Previously, Thailand together with other ASEAN member states developed the so-called AEC Blueprint 2025 which is aimed at providing the direction of ASEAN economic integration in the next 10 years (2016-2025).
This document, which is built upon the AEC Blueprint 2015, will focus on increased efficiency of the existing economic integration measures and an approach for responding to emerging challenges.
To that end, we agreed to place importance on the promotion of the micro, small- and medium-sized enterprises (MSMEs), innovation as well as research and development in order to boost ASEAN competitiveness in attracting trade and investment from foreign investors into the region and to integrate ASEAN into global value chains.
Together with other ASEAN member states, Thailand wants to create a global ASEAN through the expansion and strengthening of economic relations with other countries and regions through FTA arrangements.
Q. What are the implications of the launch of the AEC for relations between South Korea and Thailand?

A: The launch of the AEC has marked ASEAN as a market of over 600 million consumers with a combined GDP of almost $3 trillion, making it more competitive with the rest of the world.
A relatively large and still young population, with a growing middle class of well over 100 million people, represents one of ASEAN's major strengths. Its member economies are also strategically located in the heart of Asia, connected to China and India through maritime and land routes, and blessed with abundant natural resources, including oil, gas, hydropower and minerals.
With the aim of becoming a single market and production base, an integrated ASEAN would bring more opportunities for investment and intra-regional economic cooperation, which could lead to higher chances of economic cooperation for ASEAN and other partners, including Korea. It would also enable easier movement of goods, services, investment, capital and people.
Ultimately, it would offer South Korea new ways of coordinating supply chains. Korea would also have greater opportunities to benefit from the ASEAN Free Trade Area (AFTA), which has brought down a significant number of tariffs and non-tariff barriers in the region, and to receive preferential treatment under the AFTA.
Q. Can you tell us why ASEAN markets, including Thailand, are so attractive and why this region should be the investment destination in the coming decade?

A: ASEAN plays an increasingly important role in the global economy, as ASEAN has enjoyed tremendous growth in its economic size, trade and investment value during the past decade.
The combined population of 625 million makes ASEAN the third largest market in the world following China and India.
The East-West Economic Corridor spans 1,450 kilometers of road linking from the East, beginning in Vietnam, passing through Laos, to the West of Myanmar, which is the most efficient gateway to Moreh, the Indian-Myanmar border, and toward Assam State in the north-eastern Indian market. The North-South Economic Corridor connects China from the North of Thailand to our other ASEAN neighboring countries.
The CLMV is a fast growing economic market with high potential because of the high population and increasing purchasing power. The annual economic growth rate of CLMV countries is at least 7 percent.
In terms of population, CLMV has about 165 million people, which would surpass 200 million in the next decade, and its middle-class consumers will be an increasingly key driver of economic growth in the future.
Border trade with CLMV is growing robustly and will likely do so for years to come. If Korean firms are considering investments in CLMV countries in order to tap into rising markets, a Thailand+1 model would provide an excellent platform for Korean entrepreneurs.
The Thai government has launched several new economic strategies, with a view to increasing the country's competitiveness and overcome the middle-income trap towards sustainable economic development, to name just a few, the 20 Years National Strategy (2017-2036), the Digital Economy, the 10 S-Curve (Future Industries) and Thailand 4.0.
Q: I think Korea's diplomacy has too much emphasis on the four great powers surrounding the Korean Peninsula, which prevents Korea from gaining a stronger foothold in Thailand and other ASEAN countries. What is your view on this?

A: I believe every country has its own priorities when it comes to foreign policy. Like us, we give top priority to maintaining good relations with our neighbors because that is where our immediate interests lie. So I am certain that Korea also has its own priorities.
But no matter what, Thailand is a very strategically important country in Southeast Asia and as one of ASEAN's founding members, has a strong desire to strengthen our ties with Korea in areas of mutual benefit.
---