Thailand-China look to double their strategic trade and investment partnerships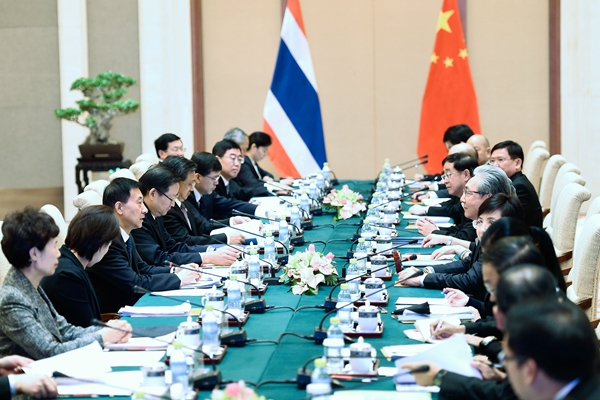 Chiang Rai Times | 25 August 2018
Thailand-China Look to Double their Strategic Trade and Investment Partnerships
BANGKOK – Thailand and China aim to beef up their strategic trade and investment partnerships to reach a value of US$140 billion (4.58 trillion baht) by 2021, up from $73 billion.
The partnerships will be driven by Thailand's flagship Eastern Economic Corridor (EEC) scheme and China's Belt and Road Initiative.
"The corridor has made Thailand an attractive investment destination in the region," said Wang Yong, a member of the State Council of the People's Republic of China. "The two countries have excellent diplomatic relations and have many cooperations related to trade and investment."
Mr Wang said China's government has a policy that parallels and complements Thailand's EEC, so the country expects to see more agreements for cooperation with Thailand in the future.
He said Chinese investors are keen on investing in many EEC-related projects such as the high-speed railway linking three airports, new-generation vehicles, smart logistics, digital infrastructure, education, energy, tourism and satellites.
"China wants to upgrade multilateral cooperation with other Southeast Asian countries under the Asean-China Free Trade Agreements," Mr Wang said, adding that the agreement's framework was signed in November 2002.
The agreement included comprehensive economic cooperation.
In November 2015, the two parties advanced joint efforts for further coordination.
Mr Wang said China also aims to improve cooperation with the Regional Comprehensive Economic Partnership (RCEP).
The RCEP proposes a free-trade agreement among 10 Southeast Asian nations and six other countries in Asia-Pacific.
"The RCEP will benefit all countries because each country can expand trade and investment flows together," Mr Wang said. "The global economic landscape has changed rapidly and impacted trade and investment, while trade war escalation is a risk factor for overall global trade and investment, so China remains open for partnerships with other countries."
Furthermore, Thailand and China held the 6th Thailand-China Joint Committee on Trade, Investment and Economic Cooperation and the Thailand-China Business Forum 2018.
These two events yesterday saw Thai officials meet Mr Wang and 504 high-ranking Chinese executives.
Nonetheless, Kobsak Pootrakool, the Prime Minister's Office minister, said the government will soon set up a new committee to mobilise and cooperate with new investment in the corridor, which will be forwarded to Prime Minister Prayut Chan-o-cha for acknowledgment and approval in the next few weeks.
The new committee will address obstacles for foreign investors.
Three ministries — Industry, Commerce & Finance, the EEC Office, the Board of Investment (BoI) — and other government agencies will be part of this committee.
"This committee will consider foreign direct investment projects with budgets above 10 billion baht," Mr Kobsak said. "Investment projects ranging from 100 million baht to 1 billion baht will be handled by the EEC Office and the BoI."
Mr Kobsak said the government aims for investment applications from Thai and foreign entities to reach 720 billion baht in 2018.
China is the fifth-largest investor in Thailand, with an value investment of 40-60 billion baht.
In related news, Thailand and China yesterday signed six draft agreements, five of which were memorandums of understanding on the EEC.
---