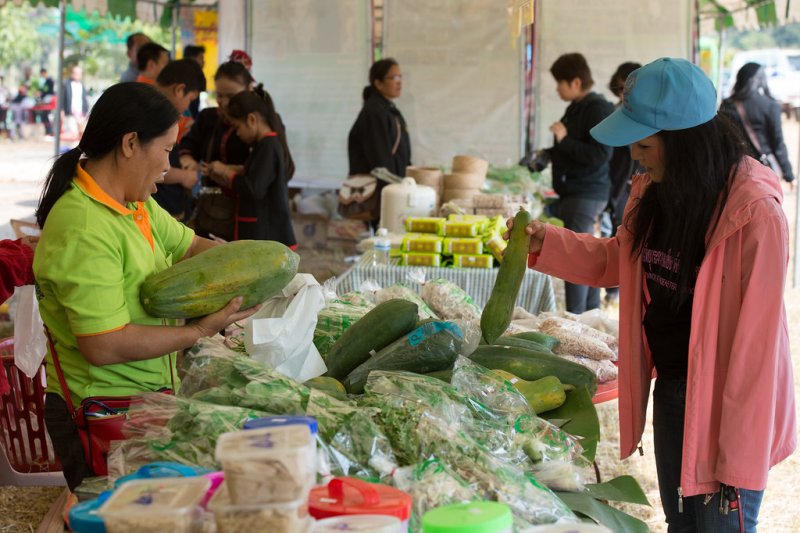 The China-Thailand FTA was signed in June 2003 and came into effect four months later in October 2003. It is an "early harvest agreement" on farm trade alone, whereby both countries opened their agricultural markets before the broader China-ASEAN FTA comes into force in 2010. Under the deal, tariffs for 188 types of fruits and vegetables were cut to zero overnight.
The China-Thailand FTA has had very strong impacts in Thailand, amply documented by NGOs, farmers' groups, academics and the press. Many Thai garlic, longan and other fruit and vegetable producers, especially in the North, lost their livelihoods because they could not compete against the cheap flood of Chinese imports. In fact, despite government reassurances, only Thai cassava exports went up. Investigations showed that Thai produce entering China was left to rot at point of entry, by local warehouse operators, so that it could not actually be commercialised.
Cheap Chinese fruits and vegetables, in the meanwhile, were criticised by Thai people for their high pesticide residue levels. But this actually led the two governments to adopt joint private food safety standards (Thai-China GAP), providing yet another boost to corporate farming and further concentration.
In all, the China-Thailand FTA has not benefitted small farmers on either side of the border. It has only been favourable for businessmen who control the trade and are able to use it to expand their contract farming operations, such as Thailand's (ethnic Chinese-owned) Charoen Pokphand Group.
last update: May 2012
photo: Asian Development Bank / CC BY-NC-ND 2.0