CP Chairman upbeat over China's market, Sino-Thai cooperation under FTA
Xinhua | 29 January 2010
CP Chairman upbeat over China's market, Sino-Thai cooperation under FTA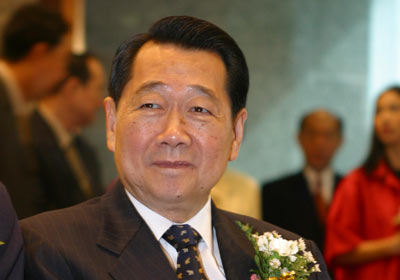 At the 3rd World Chinese Forum in Beijing in 2004, Dhanin Chearavanont, chairman of the Thailand's conglomerate Charoen Pokphand (CP) Group, said, "we have always been optimistic about China's developmental prospect, and in the future, we will stick to the policy of investing China." More than five years from then, when interviewed by Xinhua at the group's headquarters here, the chairman reiterated that "those words are still applicable nowadays."
China's market more potential than before
China means something special both for CP Group and for the 71-year-old Chairman. As the very first overseas company that invested in the Chinese mainland after the implementation of its open-up policy in 1978, CP witnessed every steps in China's development in the past 30 years from 1979 to 2009, and at the same time the company itself grew ever bigger.
Being the businessman who has an investment of nearly six billion U.S. dollars and 213 firms in China, Dhanin said he believes China's market still has enormous potentials, with even more opportunities than 30 years ago.
Everybody knows that in the 70's China's market was a "virgin market" and full of chances, he said, but "the personal income of Chinese people has soared by over 100 times in the past 30 years; doesn't it mean a much more spacious marketplace? "
He took CP's motorcycle business in the Chinese mainland as an example. In the early times the company's motorcycles monopolized the market with a yearly sale volume of 50,000 units. Now CP's market share dropped to the 5th in China, even though its sales increased by 30 times, to 1,500,000.
"Especially for the next decade, I will be more upbeat over China's market. China's economy will enjoy a growth speed several times faster than in the past 60 years," said the Chinese descendant, whose father Chia Ek Chor, the co-founder of CP Group, came to Thailand from the southern Guangdong province of China in 1921.
Soon after settling down in Bangkok, Chia Ek Chor and his brother established a small seed shop named "Chia Tai", importing seeds from China for sale to Thai farmers, which developed into today's CP Group.
With more than 400 businesses and affiliates operating in the realms from agribusiness, retail, pharmacy, real estate to telecommunications, CP currently employs over 250,000 people worldwide. Its sales at the end of 2006 were 14 billion U.S. dollars.
When asked about the strategy in China's market in the future, Dhanin said CP will continue to attach importance to agriculture and food industry. "As Chinese people's income increased, their requirement for food will be more strict, say, they will ask the food be safer, cleaner and healthier, which means market opportunities."
At the same time, he suggested the Chinese government to moderately raise the general prices of agricultural products, so as to enrich the 700 million Chinese farmers and subsequently to boost the domestic consumption.
Sino-Thai cooperation should be model
Dhanin, as an entrepreneur who knows the markets of both sides well, said the China-ASEAN Free Trade Area (FTA) agreements are beneficial to both, with ASEAN probably being the side enjoying an extra advantage.
Taking Thailand as an example, he said, "China's market is huge, at least 20 times than Thailand's. And it will be much larger after the 700 million Chinese farmers get rich." So Thailand is gaining more from the FTA than China.
What the Thai government should do, Dhanin thinks, is to undertake thorough researches, to implement favorable policy and give assistance on the goods attractive to China's market.
On the other hand, the infrastructure construction of Thailand needs China's capital and technical investment. Thailand's railway system remains the narrow-rail, and it has to update to meet the international wide-rail standard. China's technology in railway construction is top-ranking in the world, said Dhanin, especially the high-speed train technology.
"We have to ask for China's technology, and we have to ask for China's investment."
As for CP, the leading conglomerate in Thailand, he said, it would be glad to serve as a "bridge" in the economic and financial exchange between Thailand and China. "CP would provide 'one-stop' service for the Chinese enterprises and investors, to make them choose Thailand as their first step into ASEAN."
"Sino-Thai cooperation should become a good model for Sino-ASEAN cooperation." said Dhanin.
---