Thailand hopes to sign free trade deal with Bangladesh soon: Outgoing Thai envoy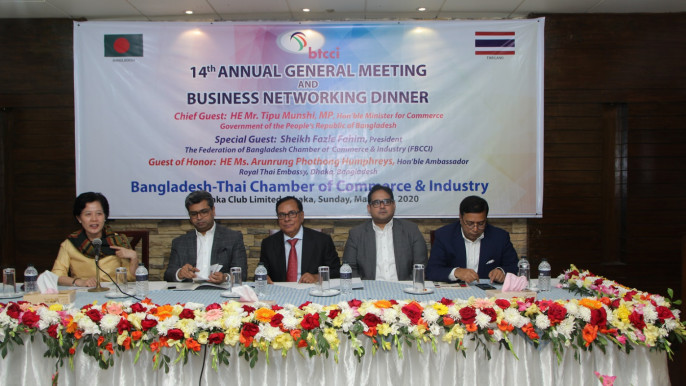 The Daily Star | 9 October 2020
Thailand hopes to sign free trade deal with Bangladesh soon: Outgoing Thai envoy
Thailand hopes to sign a free trade agreement with Bangladesh soon, outgoing Thai Ambassador to Bangladesh Arunrung Phothong Humphreys has said.
Mentioning that Thailand already has a significant investment presence in Bangladesh, she expressed hope that negotiators of both countries would finalise the draft of the proposed FTA and the two countries would be able to sign it soon.
The Thai ambassador said this during her farewell call on Foreign Minister AK Abdul Momen at the ministry yesterday, said a statement.
Ambassador Humphreys said trade, connectivity, energy and development cooperation were key priorities of her mission in Dhaka, adding that a three-year development programme is to be implemented with funding from Thailand International Cooperation Agency (TICA) in areas of agro-processing, rural development, environmental protection, women empowerment and human resource development.
She also said she would advise her successor to organise senior-level visits between the two countries once the Covid-19 crisis is over.
Saying that Thailand is Bangladesh's trusted friend and partner, Momen told the Thai envoy that Bangladesh has enjoyed strong bilateral relations with Thailand since independence.
"Building physical connectivity and people-to-people contacts with that country is Bangladesh's foreign policy priority," he said, and suggested that Thailand should consider investing in the Special Economic Zones in Bangladesh where state-of-the-art facilities and One Stop Services (OSS) are provided.
The minister thanked Thailand for its humanitarian support for the Rohingya refugees and sought a pro-active role from both ASEAN and Thailand on the repatriation issue.
Momen also thanked the Thai envoy for arranging the special flights between Dhaka and Bangkok and for responding positively to requests for medical evacuations amid the Covid-19 pandemic.
---