Thailand proposes FTA talks with Bangladesh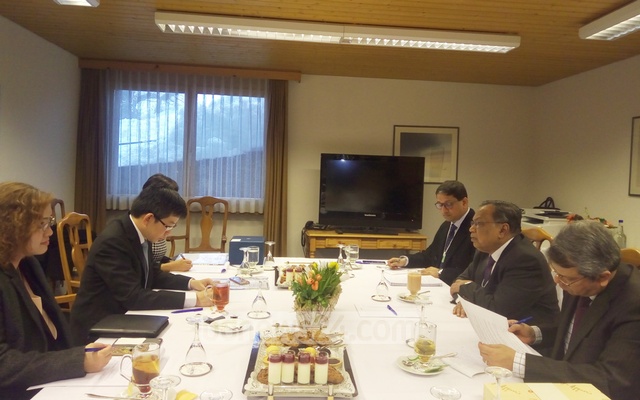 bdnews24 | 23 January 2018
Thailand proposes FTA talks with Bangladesh
Thailand has proposed to start Free Trade Agreement or FTA talks with Bangladesh as Bangkok wants to enhance the economic cooperation with Dhaka.
The Bangladesh mission in Geneva said Thai Minister in the Prime Minister's Office Kobsak Pootrakool, who is in charge of economic reform, National Board of Development and Board of Investment, showed the interest in a meeting with Foreign Minister AH Mahmood Ali in Davos, Switzerland.
Mahmood Ali is attending the 48th World Economic Forum, representing Prime Minister Sheikh Hasina.
The Thai minister said: "time has come to take further initiative to enhance economic cooperation between two friendly countries when he proposed that two sides can commence talks on a possible Free Trade Agreement."
Bangladesh does not have any FTA deal. The government is now in talks with Sri Lanka to make an Agreement.
The Thai minister informed that many Thai investors have expressed renewed interest in investing in Bangladesh, and expressed his willingness to visit Bangladesh soon with a business delegation.
He also noted that regional countries including India and China are willing to expand markets in South East Asian countries, and Bangladesh can act as a conduit for this through improved connectivity and economic cooperation with Thailand and other neighbouring countries, including Myanmar.
During the meeting on the sidelines of the World Economic Forum, two Ministers discussed ways and means of further strengthening bilateral cooperation between two countries in the areas of trade, infrastructure development, connectivity and investment.
Both sides also agreed that a regional approach is important to ensure socio-economic progress of the people in the region.
The issue of Rohingya refugee was also discussed when Mahmood Ali said Bangladesh is trying its best to engage with Myanmar to solve the crisis bilaterally.
He said Bangladesh is engaged both by concluding and implementing the "Return Arrangement" as well as through offering economic and infrastructural cooperation.
Informing the Thai minister that Bangladesh had persuaded India, China and Japan to assist Myanmar in building shelters for Rohingya returnees, he underscored that regional cooperation is crucial in resolving the issue.
He also affirmed Bangladesh's interest to enhance multi-modal connectivity (road-rail-maritime) under the BIMSTEC and BCIM frameworks where Thailand also indicated their interest to connect different ports, nodes and growth centres among other things connecting Bangladesh, India, Myanmar, Eastern China, Thailand and Indo-China.
Informing the Thai minister about his possible upcoming visit to Thailand, Foreign Minister Ali expressed conviction that the two countries need to continue discussing closely, along with other regional partners, on the ways and means of further enhancing connectivity for mutual socio-economic benefits.
He further assured the Thai side that Bangladesh is keen to develop bilateral economic cooperation with Thailand and will welcome Thai investment in Special Economic Zones for which BIDA may be contacted for discussion.
They also agreed to continue the dialogue on the enhancement of connectivity, trade and investment between two countries as well as between countries in the region.
---