Thousands of Mexicans hold protest against NAFTA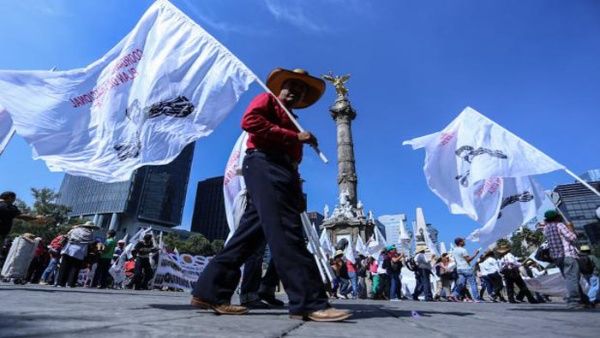 Press TV | 8 August 2017
Thousands of Mexicans hold protest against NAFTA
Mexican farmers and workers have staged a mass rally in the capital to voice their opposition to the North American Free Trade Agreement, commonly known as NAFTA, with the United States and Canada.
The protesters, who numbered up to 10,000 people, took to the streets in Mexico City on Monday, saying the trilateral trade deal was ruining Mexican farmers' and workers' livelihoods.
The protesters said that they wanted the government to leave the agriculture sector out of the new NAFTA free trade agreement, accusing Mexico City of failing to support the peasant farmers.
President Enrique Peña Nieto, the protesters said, has broken the promises he had made to the farmers and workers in regard to land and labor reforms
The protest comes as NAFTA re-negotiations are scheduled to take place from August 16 to 20 in Washington.
Reports suggest around two million Mexican farmers have lost their land under the current NAFTA conditions. US-imported products make up nearly half of all of the food consumed in Mexico.
During his election campaign, US President Donald Trump vowed to either renegotiate or scrap the 1994 North American Free Trade Agreement.
Trump described NAFTA as the worst trade deal the US had ever signed.
He blamed the three-nation deal for the outsourcing of thousands of American jobs to Mexico and China.
The remarks have raised concerns in Mexico and Canada, whose economies rely heavily on exports to the US.
---