Tough talk over medicine and cheese as Australia and Europe seek a $37b trade deal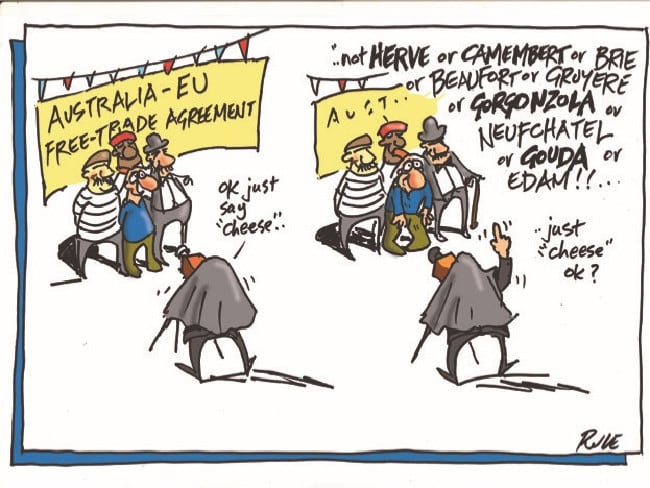 Sydney Morning Herald | 18 June 2018
Tough talk over medicine and cheese as Australia and Europe seek a $37b trade deal
By Peter Martin
Trade Minister Steven Ciobo has promised to take a hard line with Europe on the question of cheap medicines and his counterpart Cecilia Malmström foresees "difficult" negotiations over Australian producers using European names such as "parmesan" and "burgundy", but both sides are optimistic at the start of marathon talks designed to seal a $37 billion trade deal.
Launching the talks alongside Mr Ciobo and Dr Malmström, Prime Minister Turnbull said the European Union was already Australia's second biggest customer after China with two-way trade of $100 billion. Officials believe a successful agreement along the lines of those negotiated with China and Japan could boost that figure by up to 37 per cent.
Trade Commissioner Dr Malmström cited Australia's participation in Eurovision as an example of deep cultural ties. She said the EU already had trade deals with Canada, Singapore, Japan and Mexico and wanted deals with Australia and New Zealand to extend preferential arrangements.
Mr Ciobo acknowledged that a sticking point in the negotiations over the recently concluded 11-nation Trans Pacific Partnership had been Australia's insistence that it would protect the Pharmaceutical Benefits Scheme and not extend the period of so-called data protection available to the manufacturers of biologic medicines made from living organisms.
The United States insisted on a period of 12 years during which Australian competitors would not be able to get access to the data used to create cheaper versions of the very highly priced drugs, and Australia insisted on its present limit of 5 years. After Australian trade minister Andrew Robb threatened to scuttle the deal, the US relented and created an exemption for Australia.
Under Donald Trump, America itself abandoned the agreement and it was completed by the other 11 countries.
Mr Ciobo pledged to emulate Mr Robb and not give an inch on biologics.
"Let me make two comments. Ordinarily I would not want to go into positions that we will take into negotiations because I don't think that serves anyone's purpose," he said.
"But I am also realistic enough to know even if I leave the door slightly ajar, you will race off and write articles about us surrendering our Medicare position. The position is as has it always been."
Dr Malmström said she had clearly heard the message from the minister and would take it into account.
The most difficult part of the negotiations would be over the use of geographical indicators such as gorgonzola, camembert and champagne.
"We are well-prepared, we know the different interests. And we will start early discussing all this and I'm sure we'll find a good outcome," she said.
"We have done a lot of work in the scoping exercise so we know the different interests and the difficulties. We'll find a way."
The agreement would not include procedures that would allow private companies to sue governments of the kind included in the Trans Pacific Partnership.
An EU impact assessment has concluded that ambitious trade agreements with Australia and New Zealand could add €4.9 billion ($7.6 billion) to Europe's economy by 2030 and $6.5 billion to Australia's economy.
---