TPP free trade: Much opposition from Canadians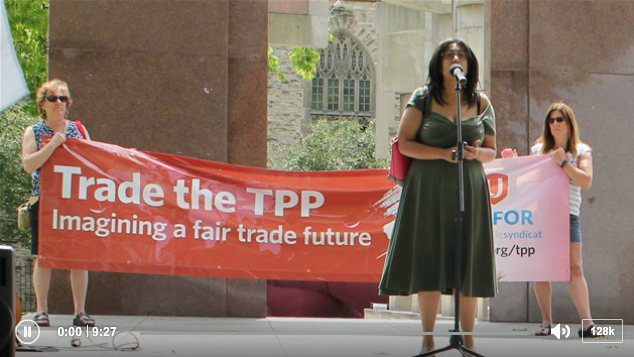 Radio Canada International | 29 Aug 2017
TPP free trade: opposition from Canadians?
By Marc Montgomery
As the Canadian government continued it's process of free trade talks known as the Trans-Pacific Partnership, it had embarked on a public consultation process. Part of that involved an ability for citizens to express their thoughts on the deal to the government agency known as Global Affairs Canada.
Perhaps to their surprise, thousands of Canadians responded via email, virtually all of the emails expressing concern or opposition to the deal. Much of this came as a result of information campaigns by OpenMedia and the Council of Canadians.
Sujata Dey is Trade Campaigner for the Council, a non-profit democracy and environmental advocacy group.
Listen - Sujata Dey, Trade Campaigner, Council of Canadians
According to Global Affairs documents obtained by the Council of Canadians through an Access to Information request, over 18,000 emails were received by the government agency. The agency counts 1,365 submissions not connected with the OpenMedia or Council information campaigns.
Of those emails only 2 expressed support for the deal.
Dey expresses some surprise at the government numbers saying their figures show over 26,000 emails sent as a result of their campaign alone.
Of those 1,365 "other" emails the government was interested in, concern was expressed over issues like the international dispute settlement mechanism, intellectual property, sovereignty and corporate power, environment, food safety, public consultation and others.
TPP not dead at all
When the U.S said it would pull out of the TPP talks, most people may be excused for thinking the deal was dead. That was not the case. Canada and the other nations continue to negotiate, but in extreme secrecy and are going on this week somewhere in Sydney Australia.
This secrecy is another aspect of the free trade talks often cited by critics of such deals.
Dey says while virtually no information is given to the public or media, business and corporate interests do have access to the talks and to negotiating information. A poll by the firm Angus Reid in early 2016 showed 49 per cent of Canadians saying they didn't know enough about the deal to form an opinion for or against.
As to the negotiations , the Council of Canadians released a statement this week saying in part,
"It all very well to consult Canadians about an agreement, but it's extremely cynical to then ignore everything that people have said to you. No wonder people are so exasperated with trade agreements," said Maude Barlow, honorary chairperson of the Council of Canadians. "What is concerning is that from media reports, negotiations are heading towards minimal changes to the U.S-led TPP 1.0. So, we will be getting all the things that led people to reject the deal in the first place: lost jobs, higher drug prices, and corporate courts, but with no further access to the U.S. market. The Trudeau government needs to clearly oppose the TPP, not support further secret negotiating rounds."
Additional information
– Open Media: Let's Talk TPP
– National Farmers Union: TPP
– Government of Canada: NAFTA and TPP
– Global Affairs report on emails
– Council of Canadians
---