TPP's failure will not curtail Malaysia's trade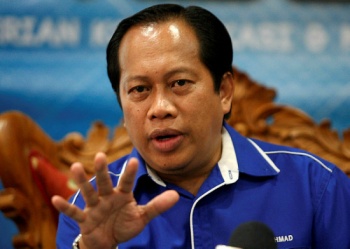 The Sun Daily | 23 January 2017
TPP's failure will not curtail Malaysia's trade
The failure to finalise the Trans Pacific Partnership Agreement (TPPA) following the withdrawal of the United States, does not mean that Malaysia's trade will be curtailed.
Deputy Minister of International Trade and Industry Datuk Ahmad Maslan (pix) said on the other hand, Malaysia was ready with a number of other alternatives, among them, the Regional Comprehensive Economic Partnership (RCEP) which is expected to be finalised by year-end.
He said the RCEP is seen as an alternative that offers attractive trade although new, and covers a larger market size, for example China with a 1.3 billion population and India at 1.2 billion.
"This contrasts sharply with the TPPA at 880 million. "Under the TPPA there is no involvement of India and China, but both countries are part of the RCEP. So, if we focus on the RCEP we will not face any major loss in the face of the TPPA's collapse," he added.
Ahmad told reporters this after visiting the Zinon Food Industry Sdn Bhd's plant here today. The RCEP involves members of Asean, China, Japan, South Korea, India, Australia and New Zealand. The TPPA comprised the United States, Japan, Australia, New Zealand, Chile, Mexico, Canada, Peru, Malaysia, Singapore, Brunei and Vietnam.
Ahmad said the government was working at having Free Trade Agreements (FTAs) with four of the 12 countries, namely the United States, Canada, Mexico and Peru, that were part of the TPPA."In the five years that we undertook the TPPA negotiations, we had good relations with the four countries.
"We feel that within two years we can finalise the FTA's as each trade negotiation can take about a year to conclude," he added. — Bernama
---