Trade impasse as EU seeks deal with entire EAC bloc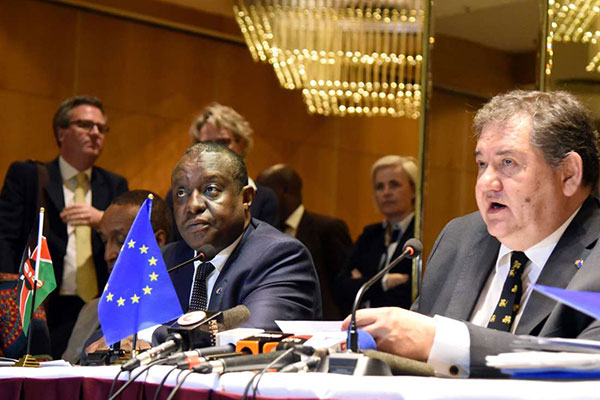 The East African | 13 July 2019
Trade impasse as EU seeks deal with entire EAC bloc
By JULIUS BARIGABA
Five months after the East African Community deferred signing the controversial Economic Partnership Agreement with the European Union, it has emerged that Tanzania's unyielding stance could force a stay of the status quo as the EU is hesitant to push the region to sign a trade deal that threatens its cohesion as a bloc.
Well-placed sources at the European Commission told The EastAfrican that the EAC negotiated and concluded a bilateral trade agreement with the EU as a bloc, and it must remain as such.
"All EAC members need to sign and ratify the agreement," said the EC sources.
The EPA gives EAC products total access to the EU market, with 82.6 per cent of imports from the EU allowed into the EAC market.
The remaining 17.4 per cent of imports from the bloc — labelled "sensitive," and largely consisting of farm and dairy products — would be progressively liberalised within 15 years from when the agreement comes into force.
Kenya and Rwanda have signed the deal. However, Tanzania is unhappy about the trade pact, arguing that the agreement will have serious consequences for its revenues and the growth of its industries.
Burundi refused to sign given its deteriorating relations with Europe. Uganda argued that signing the pact as individual countries would compromise the unity of the region, hence its decision to wait it out.
Kenya has been lobbying its EAC partners to enforce the EPA on an individual basis rather than as a bloc to allow those that have not signed to sort out their issues.
Alternative options
The confirmation of the status quo comes as a blow to Kenya as alternative options of signing the EPA will require a joint formal request from all EAC members.
At their last Summit in February, the EAC heads of state gave Tanzania four months to seek more clarification from the EU.
But Kenya's President Uhuru Kenyatta — desperate to see the bloc ink the deal in order to guarantee continued market access for Kenyan exports to Europe — tabled a proposal that after four months, the EAC countries willing to sign may do so as individuals, a principle referred to as variable geometry.
But the EU is not for this idea. The Southern and Eastern Africa Trade Information and Negotiation Institute (Seatini) argued that the variable geometry formula would impair the EAC's regional integration.
The EastAfrican found that the EU provided the clarifications that Tanzania sought before the end of the four-month period and also suggested a joint meeting to dispel any remaining misunderstanding, but Dar's response is still pending.
---