Trade unionists ask EU not to sign FTA with Colombia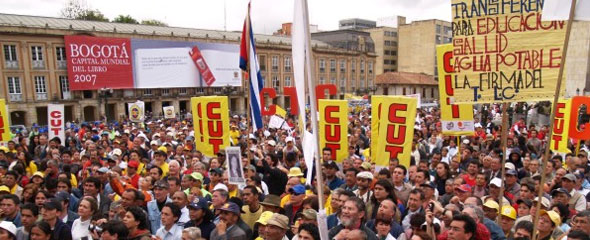 Colombia Reports | Wednesday, 09 December 2009
Trade unionists ask EU not to sign FTA with Colombia
Ashley Hamer
Colombian trade unionists on Wednesday asked the EU not to sign an FTA with Colombia due to the human rights violations they believe to have been committed by the Uribe government.
Trade unionists and politicians denounced before the European Parliament supposed human rights abuses committed by the government of President Alvaro Uribe, and requested the EU refuse a free trade agreement to avoid giving Colombia a so-called "certificate of good conduct" with regard to its human rights situation.
"It is not right that they sign an FTA based on the death, hunger and ruin of Colombian workers," stated the Foreign Relations director of Unified Workers Central, Raul Arroyabe, explaining that in the last twenty years 2,700 union leaders have been murdered in Colombia - 510 of whom died during the seven years Uribe has been in power.
A Senator for the Partido Polo Democratico, Jorge Robledo, highlighted the two million people displaced from rural communities due to violence and poverty during the Uribe administration reported Europa Press Wednesday.
"Colombia is the world's most dangerous country for unionists. Hundreds of congressmen have been linked to paramilitaries and 80% were close to Uribe," stressed Robledo. "The situation is so bad that the U.S. refused to sign an FTA with Colombia as punishment for Uribe failing a human rights exam," added the senator.
The Socialist Group coordinator of the European Parliament (EP) Subcommittee on Human Rights asserted that FTAs with the U.S. and Canada were blocked due to concerns over humanitarian issues, and said that EP members will vote to prevent a trade agreement with Colombia until the human rights situation improves.
---