Trans-Pacific Partnership: Democrats may have votes to block 'fast track' authority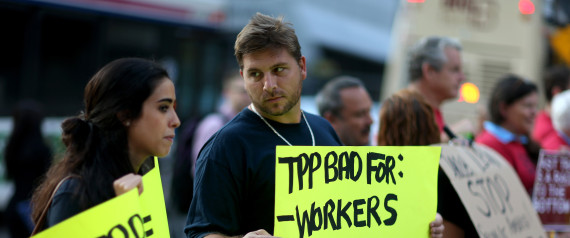 Washington Post via Stuff | 12 May 2015
Trans-Pacific Partnership: Democrats may have votes to block 'fast track' authority
PAUL KANE
Democratic infighting has left in limbo US President Barack Obama's highly sought special authority to close global trade deals, with opponents believing they have the votes to block the measure.
Such a move would create the unusual possibility that the president's own party would launch a filibuster in the Senate against his coveted "fast track" trade negotiating authority.
Obama and his Cabinet officials have mounted a furious final effort to lock up the votes in both chambers to secure the "Trade Promotion Authority" and then move on to wrapping up the final details of the Trans-Pacific Partnership, the trade agreement between 12 nations, including New Zealand, Australia, the US and Japan.
"He's made a very strong case about why he believes that this is the best interest of our economy both in the short term and over the long term," White House press secretary Josh Earnest said on Monday.
With a few Republicans expected to oppose the TPA legislation, Obama will need roughly 10 Democrats to join about 50 Republicans to clear a 60-vote hurdle on a filibuster vote on Tuesday afternoon (Wednesday morning, NZ time) to move forward with the fast-track legislation.
The new authority would set up a faster process for congressional consideration of future trade deals, forcing an up-or-down vote without giving lawmakers the ability to amend the deal. Obama, similar to previous Republican and Democratic presidents, views having this authority as key to finalising global trade deals, arguing that it would make negotiating with multiple nations virtually impossible if each country's legislature was able to tinker with the agreement.
The debate has turned increasingly heated between Obama and his normally supportive base of anti-Wall Street progressives, particularly Senator Elizabeth Warren, a Massachusetts Democrat.
Warren returned fire on Monday in an interview with The Washington Post's Plum Line blog, accusing the president and his advisers of trying to "grease the skids" for a deal while he "won't actually let people read the agreement."
"If the president is so confident it's a good deal, he should declassify the text and let people see it before asking Congress to tie its hands on fixing it," she said.
That came after Obama, during a stop at Nike's Oregon headquarters promoting trade, gave a searing assessment of Warren's critique on the trade packages he is negotiating. In an interview with Yahoo News, he labelled her a "politician like everybody else" who is "absolutely wrong" when she says the emerging TPP would create a path for a future Congress to undermine the Dodd-Frank overhaul of Wall Street regulations.
On Monday, Earnest stepped up the criticism by accusing Warren of distorting the argument on transparency, noting that any member of Congress can review the current details of the Pacific trade deal in a secure room in the Capitol basement.
"If Senator Warren is wondering what she's voting on, then she can walk over to the room that has been established on Capitol Hill by the US trade representative and she can read the latest version of the negotiated document. So there is no need for this false criticism," Earnest said.
Senate passage was once considered a sure thing for TPA and the Pacific trade deal, with White House officials hoping that a large bipartisan majority would support the fast-track legislation and provide a springboard for what was expected to be a much narrower path to victory in the House.
The vast majority of the 245 House Republicans are expected to support the president, leaving White House officials to find possibly 25 to 30 Democratic votes. According to one Democratic estimate provided on Monday, there are just 17 House Democrats so far supporting TPA.
But now the Senate outcome is up in the air amid last-minute complaints from some Democrats demanding a side package of concessions.
Senator Ron Wyden of Oregon, the top Democrat on the Senate Finance Committee who negotiated the details of the fast-track trade bill, has told his colleagues that he will not support starting the debate unless several bills designed to help protect US workers are considered simultaneously.
Republicans have so far signalled a willingness to include only one extra bill, creating federal support for labor retraining if workers can prove they have lost a job because of foreign competition.
Democrats are keenly interested in approving a bill that largely deals with US customs issues but includes language that would crack down on alleged currency manipulation by Chinese officials who want to make their products cheaper on the global markets. It also includes stronger enforcement measures to determine whether nations are cheating on their promises.
Senate Majority Leader Mitch McConnell, Republican of Kentucky, who has offered unusual praise for Obama's efforts on trade for several weeks now, criticised Wyden and other Democrats for impeding their party's president in a way that would not even allow debate to begin on his legislation if they succeed on Tuesday.
"Some talk about preventing the Senate from even debating the bill. I would tell you, I think that would be a big mistake," McConnell said during a Senate floor speech Monday, noting that these Democrats are blocking Obama's agenda. "This bill is indeed worthy of debate by the president of the United States."
Minority Whip Richard J. Durbin, Democrat of Illinois, said he had "no indication" that Republican leaders would agree to combine the various bills in such a way that would pass muster with enough Democrats to proceed.
"I would say, at this point, most Democrats are inclined to vote no unless they know what they're voting for," he said.
The most important piece, he said, was the enforcement legislation that carries provisions addressing, among other things, currency manipulation.
"The question is, what is going to happen to this bill?" Durbin said. "Is it going to come separately? Is it going to be guaranteed a vote in the House? Is the president inclined to sign it if it comes to his desk? Those are all pretty important questions that a lot of people would like to know the answer to."
- The Washington Post
---