Tsai makes pitch for Taiwan to join CPTPP at forum with ex-world leaders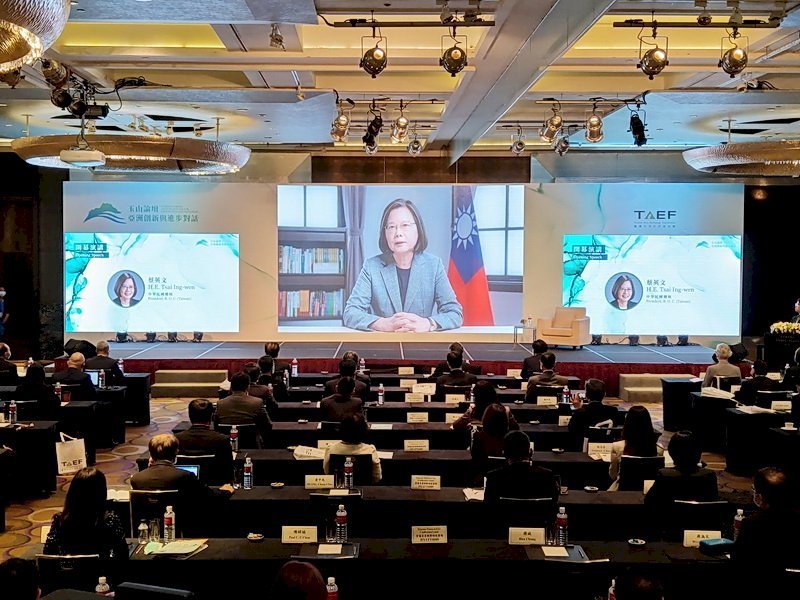 Focus Taiwan - 08 October 2020
Tsai makes pitch for Taiwan to join CPTPP at forum with ex-world leaders
By Lee Hsin-Yin
President Tsai Ing-wen (蔡英文) on Thursday reiterated Taiwan's desire to be included in the Comprehensive and Progressive Agreement for Trans-Pacific Partnership (CPTPP) and sign bilateral trade agreements with regional countries, during a virtual forum attended by former world leaders.
Taiwan and other countries in the Indo-Pacific region are complementary in many ways, and Taiwan is willing to collaborate with its Asian partners, Tsai said in a pre-recorded speech that was played at the opening of the Yushan Forum, a multilateral platform established in 2017 for regional dialogue.
Taiwan's cooperation with other countries in the region has expanded in the areas of international healthcare, the halal industry, agricultural demonstration zones, e-commerce, and other domains, she noted.
"While Taiwan seeks to join the Comprehensive and Progressive Agreement for Trans-Pacific Partnership, that is CPTPP, we also look forward to working with our regional partners to advance prosperity, peace and stability through the signing of bilateral economic cooperation agreements," the president said.
At a virtual press conference after the forum, former Australian Prime Minister Malcolm Turnbull said he supports an Australia-Taiwan free trade agreement and hopes Taiwan will be able to join the CPTPP.
"Australia is an open market economy. We have a massive vested interest in free trade. Trade means jobs," said Turnbull, who also took part in the virtual forum.
At the forum, Tsai said the Indo-Pacific region now plays a pivotal and increasingly influential role in the development of global industrial supply chains.
However, "our democratic system and security continue to face persistent military threats and provocations from particular sources," she said.
As the COVID-19 pandemic continues to ravage the globe, Tsai said, these developments pose unprecedented challenges to the shared prosperity and way of life in the region.
Turnbull, meanwhile, expressed concerns during the forum about China's aggressive diplomacy around the world.
"What we have seen today is a China, under Mr. Xi Jinping (習近平), which is more authoritarian at home and more aggressive abroad," Turnbull said.
China's aggressive diplomacy has been counter-productive and would only lead to decreasing leverage on foreign relations, as it serves to alienate public opinion worldwide, he said.
Other countries in the Indo-Pacific region must build solid multilateral relations to become more resilient and to avoid being reduced to a battlefield in the conflicts between China and the United States, Turnbull said.
Expressing similar views, former Swedish Prime Minister Carl Bildt said at the forum that cooperation in the Indo-Pacific is important, given the interdependence of countries, and he cautioned against authoritarianism.
"Safeguarding our free and open political systems is also a very important part of our efforts," Bildt said, adding that while an authoritarian regime might look stable, it could actually be fragile because its people do not trust the government.
At the forum, President Tsai gave a review of Taiwan's relations with its regional partners, saying it had signed more than 70 agreements and memorandums of understanding with countries, under its New Southbound Policy, to bolster cooperation in diverse areas such as the economy, trade, education, agriculture, science, and technology.
The New Southbound Policy was launched by the Taiwan government in 2016 to seek closer ties with the 10 member states of the Association of Southeast Asian Nations, as well as South Asian countries, and Australia and New Zealand.
Last year, trade between Taiwan and those partners totaled nearly US$112 billion, while the figure for the first half of this year was approximately US$52 billion, holding steady year-on-year, despite the COVID-19 pandemic, Tsai said.
The Yushan Forum, a major initiative of President Tsai's administration, is aimed at establishing Taiwan's role in the changing regional dynamics by creating an institutionalized multilateral platform for dialogue on cooperation.
---