'Turkey, Canada FTA negotiations should start soon'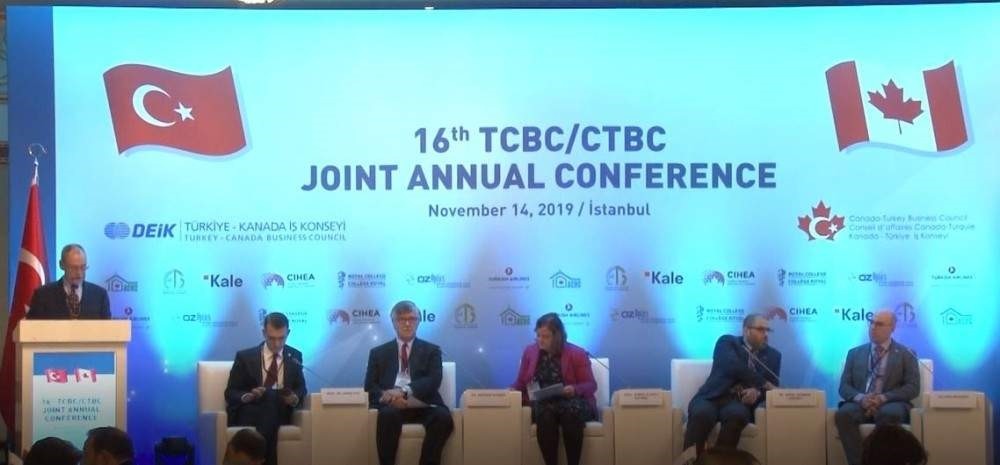 Anadolu | 14 November 2019
'Turkey, Canada FTA negotiations should start soon'
by Gökhan Ergöçün
A free trade agreement (FTA) between Turkey and Canada should start as soon as possible, Gonca Yilmaz Batur, the deputy trade minister of Turkey, said on Thursday.
An FTA will contribute to two countries' trade and economic relations and provide a strong basis for raising exports and investments, she told to Turkey-Canada Business Council's 16th annual meeting, organized by the Foreign Economic Relations Board of Turkey (DEIK) in Istanbul.
Inviting Canadian businesspeople to utilize opportunities in Turkey, she noted: "Our bilateral trade volume reached $3.2 billion in 2018, Turkey-Canada economic and trade relations have a big potential, these figures are not enough for our relations."
Turkey supports free, balanced and fair trade and is decisive to establish a stronger, more competitive, predictable and business-friendly environment, she reminded.
Batur noted that the country is a low-tax open market and it is in the Customs Union with the EU.
"It also has 20 FTAs with key players in the global trade such as South Korea and Singapore," she added.
Turkey became a regional hub for foreign direct investments with its strong structure, well-educated young population, and assertive investment incentives, she stressed.
For improving the bilateral relations, the two sides will continue to work together, she said.
"Raising protectionist policies damages multi-side trade system and supply chains in the world. Thus, bilateral cooperation initiatives became more important," added Batur.
Brahim Achtoutal, the consul general of Canada in Istanbul, said the gathering of representatives of the economy, trade and business world in Istanbul gets two countries closer.
This meeting will be highly effective for discovering the two countries' investment and business opportunities, Achtoutal added.
During the day, Turkey-Canada Joint Economic and Trade Commission's (JETCO) first-period meeting was also held under the presidency of Batur and her counterpart Jonathan Fried.
Batur also shared with Fried a list of potential products to be exported.
Next year's JETCO meeting will be held in Canada.
---