Turkey, Venezuela ink trade agreement over phone
All the versions of this article: [English] [français]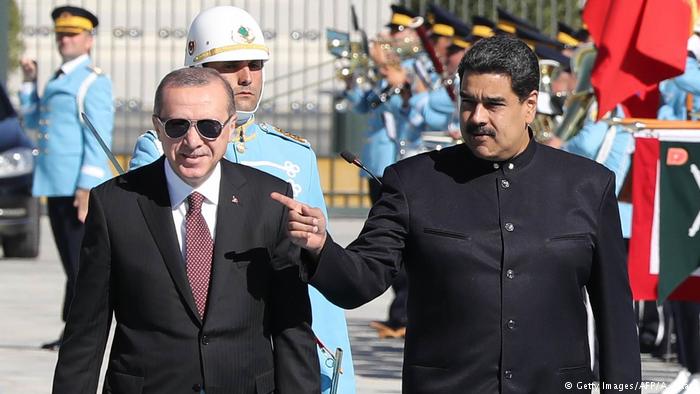 Anadolu Agency | 18 May 2018
Turkey, Venezuela ink trade agreement over phone
Turkey and Venezuela have signed an agreement to boost bilateral trade between the two countries in a conference call.
The agreement came during a teleconferencing call between President Recep Tayyip Erdogan and his Venezuelan counterpart Nicolas Maduro late Thursday.
"By expanding its scope, we aim for this agreement to be turned into a free trade agreement as soon as possible," Erdogan told.
The leaders also discussed bilateral ties and regional issues. Foreign Minister Mevlut Cavusoglu and Economy Minister Nihat Zeybekci also took part in the call.
During the call, Erdogan expressed his pleasure at improving bilateral relations in fields such as the economy, trade, agriculture, energy, culture, and education.
"I am very glad to see our trade volume in the first three months of 2018 topped a half-billion dollars. I believe this figure will reach $2 billion by the end of the year," he said.
Erdogan also expressed his happiness at Maduro attending Friday's extraordinary summit in Istanbul of the Organization of the Islamic Conference.
The Venezuelan leader also attended last year's OIC extraordinary summit in Istanbul on the issue of Jerusalem.
"I openly expressed that we support all the Muslim countries and Palestine, especially in light of what has happened in Palestine recently," said Maduro, for his part.
He also wished Erdogan success in the June 24 general elections, saying: "June 24 is a historic day for Venezuela."
The Venezuelan president also said Turkish Airline's Caracas-Istanbul flights will further improve ties between the two countries.
Reporting by Sinan Uslu and Mumin Altas:Writing by Nilay Kar
Il a également souhaité le succès d'Erdogan aux élections générales du 24 juin en disant: "Le 24 juin est un jour historique pour le Venezuela".
Le président vénézuélien a également affirmé que les vols Caracas-Istanbul de Turkish Airline amélioreraient encore les liens entre les deux pays.
---